Many of us assume that flowers are only useful to us when they're fresh, but the truth is that your interest in growing flowers can open the door to an interest in pressing them and using them around your home for both practical and decorative purposes. The following projects will allow you to see your favorite blooms all year round, even when they're far out of season.
Mandala Suncatchers
Sourced from Feedly.com
Using semi-transparent flowers and a pair of glass or plastic circles, you can put pressed flowers in the spotlight and create a lovely decoration that will throw colored light all around your room. Best put near a very sunny window, a mandala suncatcher is sure to bring calm and beauty to your spaces.
Homemade Candles
Gather some soy candle melts and mason jars (both of which are available in most craft stores), and get out some of your more fragrant pressed flowers: roses, lavender, and dried rosemary all work well. Follow the steps you would normally go through in candle making, but while your candles are still liquid, add the dried flowers and herbs to their perimeters, leaving room in the middle for the wick. Don't worry about getting them perfectly situated, as their smells will be absorbed by the wax and will come out when you light them in the future.
Linen Closet Fresheners
If your sheets and towels get musty in your linen closet, consider adding a dried flower or two between each layer of cloth. Don't add so many that it's hard to find them all before actually using the sheets and towels, but sprinkle one in here and there to cut down on the unsavory odors that develop in confined spaces. Alternatively, you can tie a bundle of pressed flowers together and hang it upside down from the top shelf of the linen closet. This option works well for pulling some of the odors out without leaving you with petals to clean up every time you get a towel out.
Pressed Flower Clock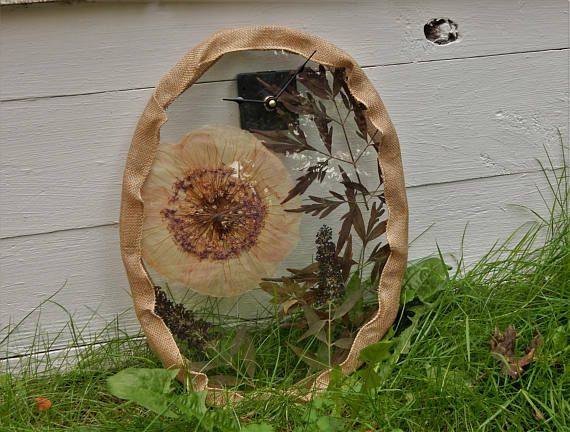 Sourced from Etsy.com
By using a simple kit or retrofitting a clock you purchased at a secondhand shop, you too can take an ordinary clock and liven it up with pressed flowers. After all, the texture and vibrance of a floral print never look as good as those of real flowers. Bonus points if you keep a vase of matching fresh flowers in the same room!
Pressed Flower Coasters
Adding pressed flowers under a waterproof barrier can make any set of coasters look great on your coffee table or in your breakfast nook. The coasters can protect your wooden furniture from condensation while giving your living spaces a touch of natural beauty.
Pressed Flower Canister and Oil Jar Decorations
Want to make your flour, sugar, and oil containers a little less drab? Try affixing some pressed flowers to the ceramic or glass of the containers you use to store cooking staples. The best part is, you can easily remove and replace the flowers if you choose to change your kitchen's color scheme later on. Peonies and pansies are especially bright and beautiful when used in this way, popping out against the white of the ceramic.
Waxed Paper Lanterns
Sourced from HGTV
This is a simple craft that can be done with a child. Press flowers between waxed paper, and then fold the resulting paper around an electric votive candle to create a warm glow for yourselves on a cold night. To top it all off, you and your child can learn about the flowers you're pressing and preserving as you work.
Ornaments, for Christmas or Otherwise
For a truly unique Christmas tree, press dried flowers into circles of sand dough or plaster of paris. These ornaments preserve the feeling of summer even when the cold winds blow outside. They also make great gifts, but we have a feeling you'll want to keep more than your fair share for you and your own family to enjoy around the house.
Mobiles
The bright colors of pressed flowers give babies something soothing and interesting to look at in their cribs. You can make a mobile using ribbon, pressed flowers glued on paper, and a metal hanger, or you can buy a make-your-own mobile kit online or at the local craft store. Either way, you know your baby is going to be an expert green thumb one day. How could they not be with pressed flowers hovering above them all night?
Perfume the House by Putting Pressed Flowers in a Candle Warmer
If you raise fragrant flowers, you can gently perfume your own house by pressing them and putting them inside a candle warmer. The scent will be subtle but fresh, and you won't get the smoke or burning smell that comes with a traditional candle. Try dried lavender for a particularly nice aroma.
No matter how you choose to incorporate pressed flowers into your home, you'll be looking forward to spring all year long so that you can press more blooms and add them to your decor.