In anticipation of warm, festive gatherings centered in the backyard around the barbecue, gardeners begin the joy of planning their summer fests. Gather your seeds and pick the growing sites you prepped in spring in anticipation of the summers harvest.
Depending on how much space you have available in your yard and how early you get your goodies in the ground, the sky's the limit when it comes down to growing and grilling vegetables.
Planting
Once the soil temperatures have reached optimal starting temperature, plant seeds directly in the ground. Some seed catalogs define the soil temperature for germination and when selecting seeds, make note of the days needed for harvest, if needed. Consult with the local extension agent to determine how long seed germination is until harvest for your area. Choosing established sprouts from your local nursery is another option for starting your own seeds inside to get them ready for transplanting.
Some catalogs will also tell you the fertilizer needs for each vegetable. Amend your soil accordingly. Here are the growing needs of some of your summer grilling vegetables.
Onions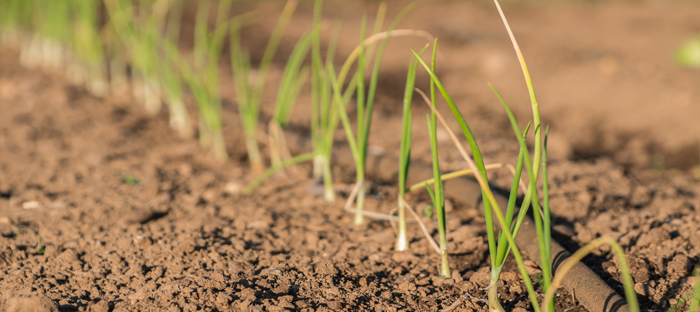 Onions have the coolest soil temperature requirements of all the grilling plants. Once the soil temperature reaches 50 F, the seeds or transplants can be planted. Most species of onions have growth that is heavily tied to the amount of sunlight they get, so be sure to choose seed species that best correspond to the day lengths in your area. For instances, long day varieties tend to grow better in the north. Onions require only a moderate amount of fertilizer, and they prefer a light, sandy, loamy soil.
Onions require from 104 to 110 days to mature. Once they mature, stop watering them so the protective paper coating around the bulb forms. Once the tops fall, harvest in about a week. Cure in a warm shaded area until the necks and outer skins are dry.
Zucchini
Zucchini or yellow squash can be planted when the soil temperatures reach 65 to 85 F. Resist the urge to plant squash too early because they don't like cool weather. This makes them an ideal veggie to start for those planters who are always finding themselves behind schedule, or the BBQ fan who doesn't realize they want grilled veggies to pair with their steaks and burgers until summer is in full swing. Black mulch and raised beds help keep the soils warm for earlier planting. Plants mature at 38 to 60 days, depending on the variety. A moderate fertile, and well-drained soil will produce the best squash for grilling. Remember that bees are necessary for pollinating squash, so plant bee attracting plants to ensure plants are pollinated. To keep the plants producing, harvest when the zucchini are young.
Corn
Later in the season plant corn. It requires soil temperatures of 65 to 85 F. The best most successful corn is grown when seeds are planted at the higher soil temperatures. Before planting, corn is a heavy feeder and needs a high amount of fertilizer. Some corn matures as early as 68 days while others mature in 80 to 90 days. When the ear silks brown and dry, harvest the ears.
One delicious grilling techniques after harvesting your corn, is to wet the entire corn, husks and all, then barbecue directly on the grill.
Tomatoes and bell peppers may be planted Once the soil temperatures reach 70 F. Both of these plants have high need for fertilizers and are susceptible to cold temperatures. Protect them from freezes.
Peppers are warm season annuals which thrive in composted, well drained soils. Grow these plants in raised beds with black mulch. Amend the soils with extra calcium and phosporous which should produce the best yields. Harvest the peppers when they are colorful red, orange, or yellow.
Tomatoes
Tomatoes, the peppers partner, also love a large amount of fertilizer and grows best in well- drained, raised beds with black mulch. Some considerations when planting are to bury the plant up to the top two sets of leaves. Also growing in full sunlight and cooler temperatures keep the plants from getting leggy. A typical disease, blossom end rot can be prevented by the application of additional calcium. Harvest when the tomatoes are red in 70 to 80 days. Green tomatoes can be ripened in a cool dark area where the fruit is not touching each other.
Eggplant
The final favorite for summer grilling are eggplants. These plants are heat loving and need a long day. With soil temperatures up to 75 to 90, these plants do well in well- drained raised beds with black mulch. As with the tomatoes and the peppers, the eggplants require a high amount of fertilizer. The best growth occurs when night temperatures are at least 70 F. Harvest these plants in 55 to 75 days depending on the variety, when the skin is smooth and silky
Cooking and Grilling
After harvesting these veggies, browse the Internet for a variety of marinades. Then you have a choice of four popular types of grills. The most popular grill is the gas grill which is quick to light, produces moister meat, and is quick to clean up. It is also possible to use a smoker box which smokes the veggies.
A charcoal grill is portable, less expensive, provides a smoke flavor and can be used with charcoal.
Lastly another grill often enjoyed by summer grillers is the electric grill. These grills incorporate electric plates which makes them smoke free. They are inexpensive, portable, easy to clean and good for apartments.
From garden to grill, summertime is a great time to fire up the barbecue and enjoy your summer bounty.