Fall, for many, is a time of pumpkin envy. Farm stands, farmers markets, and garden centers display fanciful pumpkins that look like something out of a fairy tale – and not always a happy one! The pumpkins struggling along in our own gardens look ordinary in comparison.
Here are eight pumpkin varieties you didn't know your garden needed until now.
Big Max Pumpkin
Growing giant pumpkins sounds like a great idea, until the reality sets in. Without a front loader tractor, moving giant pumpkins from place to place is more trouble than it is worth. Not to mention the spelunking process required to carve such a monster. Big Max offers a large alternative to giant varieties. While some specimens do grow to enormous size, Big Max tends to weigh in around 100 pounds. The skin of these beauties is 3 – 4 inches thick, so carving them requires a large knife and is best done by an adult. If you want a really big pumpkin, only allow one or two pumpkins to develop per vine, and remember save a pumpkin for pie. Despite its size, this variety is reputed to have tasty flesh – and lots of it!
Full Moon Pumpkin
If you decide to grow Big Max, then Full Moon offers the perfect compliment. This white beauty weighs in close behind Big Max at 60 to 90 pounds. The variety's striking white color and epic proportions make for the kind of jack-o-lanterns guaranteed to make trick or treaters shriek. They also inspire pumpkin envy in everyone who passes by your porch.
Fairytale Pumpkin
With a name like Fairytale Pumpkin, the variety could hardly disappoint. This deeply lobed gem looks like something out of a Grimm Fairytale. The ribs are deep, casting shadows on the orange mahogany skin, and its squat shape is completely at home on your front porch or in the garden of one of Grimm's witches. Not only does the pumpkin conjure up images of rural autumns past, this French heirloom also makes a nice pie pumpkin. Wedges of it are still sold in French markets this time of year. Each fruit can weigh up to 15 pounds, and the handle is sturdy enough to withstand the attention of eager children.
Rouge Vif d'Etampes (Cinderella Pumpkin)
If the Fairytale pumpkin is reminiscent of the Grimm brothers, the "Cinderella pumpkin" belongs in more cheerful tales. Its bright red color and cheerful squat shape makes it exactly the kind of pumpkin Cinderalla would have used as her getaway vehicle. Unlike the French heirloom listed above, this variety is not suitable for eating. This is just as well. The fruits, which can weigh to 20 pounds, are too beautiful to put in a pie.
Long Island Cheese Pumpkin
This variety wasn't around for Cinderella to stick on the wheels of her carriage, or else the name might be a little different. This Long Island heirloom gets its name from its resemblance to a wheel of cheese. The squat, creamy skin conceals an interior famous for its pies. At 6 – 10 pounds, the fruit is very manageable and an excellent keeper. Its unique shape and coloring make it perfect for fall decorating until the time comes for it to go into the oven.
Marina Di Chioggia
This heirloom comes from Italy, as its name suggests. This is another pumpkin that would not look out of place on the set of a spooky fairy tale. Its warty, bubbled, bluish skin invokes images of a witch's curse, along with Italy's rural history. Not surprisingly, the pumpkin is delicious, appearing in gnocchi and ravioli dishes as well as pies. This variety offers a nice compliment to its more dramatically colored pumpkin kin, and is sure to elicit curiosity.
Red Warty Thing Pumpkin
It is too bad seeds are mostly ordered online or by catalog. If this pumpkin were a drink at a bar, its name alone would be enough to draw a crowd. Imagine ordering a "red warty thing on the rocks" without wanting to know what was in it. The same goes for the pumpkin. Despite the alarming red, warty exterior (similar to Marina Di Chioggia), this heirloom pumpkin contains a fine-grained, tasty flesh comparable to a Hubbard squash. The fruits grow up to 20 pounds, making them creepy candidates for the best jack-o-lantern on the block.
One Too Many Pumpkin
You really can't have one pumpkin too many in the fall, especially when they look like this variety. One Too Many is the perfect Halloween accent. It resembles a bloodshot eyeball with its red coloring and vein-like stripes. Round and approximately 20 pounds, these pumpkins pack a punch. They are also resistant to powdery mildew and some viruses.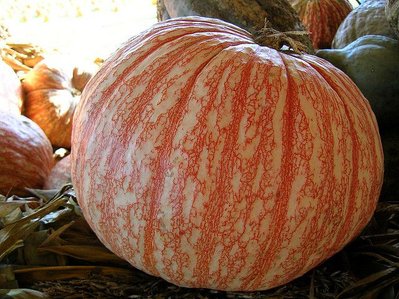 These varieties are only a few of the pumpkins out there guaranteed to instill pumpkin envy in the heart of every gardener. Do you know of any other heirlooms or hybrids that should be on this list?