African daisy description
The African daisy I grew from seeds received in a trade was labeled Arctotis grandis. But Plantz Africa insists that the blue-eyed type actually is Arctotis venusta, though often mistakenly called either Arctotis grandis or stoechadifolia.
At any rate, it grows to 20 inches or taller, its turquoise-tinged gray foliage frosted with short silvery hairs. The leaves were shallowly lobed for me, but their shape reportedly can vary. I found the nodding "lashed" buds almost as attractive as the blooms themselves.
Those 2 to 4-inch flowers have true-blue centers ringed by mauve stamens, with a band of gold at the bases of their shiny white petals. As you can see below, in the photo of daisies which are closed for the night, the petal backs are mauve-elous too. (Note: That image was rotated for better display. The buds or closed blooms generally hang down or face outward until they open, after which they lift their heads.)
The daisies flowered from July through October here in Pennsylvania and proved to be much more cold resistant than I had expected. Although our autumn frosts eventually killed off the stems, the plants' rosettes survived until they were covered with snow. So I would call the species a hardy annual, though it is listed as perennial in zones 9 through 11.
How to grow African daisy
To sow it, I barely covered the seeds with seed-starting mix and placed their container under grow lights in our cool basement where temperatures tend to remain in the 60s Fahrenheit. The seedlings took about two weeks to sprout under those conditions. They can begin to bloom about two months after being sown.
Getting African flowers to survive in my increasingly soggy climate can be tricky. Fortunately, a client sent me free grow-bags in the spring of 2018. When filled with potting soil, those porous containers allowed me to keep dryland plants happy while the actual ground beneath the bags was anything but arid.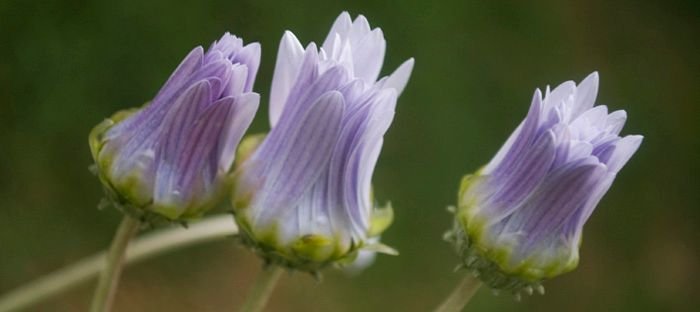 Where to plant African daisy
Since the daisies did look a bit gangly in a container, those of you with well-drained soil probably should plant them directly into that soil—in a full sun position—and they will be content. After all, they reportedly thrive on sandy, rocky roadsides in Africa.
As for Arctotis stoechadifolia, Plantz Africa reports that species also has silvery foliage, but grows only about 14 inches tall. Its black-centered cream or yellow flowers are backed with red or maroon. And, according to the Plant List, Arctotis grandis is a synonym for Arctotis stoechadifolia.
So we probably can agree that those two species are the same thing. However, which thing they are may still be open to question! In the meantime—correctly or incorrectly—the blue-eyed African daisy still appears to be most commonly sold under the name of Arctotis grandis or stoechadifolia.
I lean toward venusta myself, simply because it means "beautiful"—probably in reference to the good looks of the goddess Venus. And, if Venus was a blue-eyed platinum blonde, these flowers certainly are striking enough to represent her!
---
Photos: The photos in the article are my own.