It's almost spring, and flats of pansies are replacing primroses in the entryways to nurseries, hardware stores, and even the grocery store. Pansies are beautiful, charming flowers, and I can't imagine the spring garden without them. But save some room for these cool season annuals if you want more from your garden than the frilly standbys can offer: sweet peas, snapdragons, stock, sweet William, larkspur, and violas.
Sweet Peas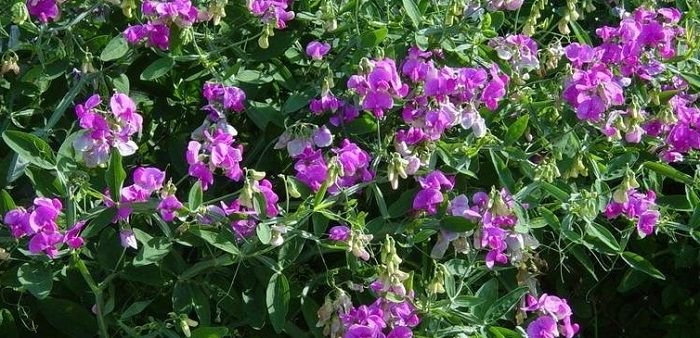 If any herbaceous flower could be more iconic of spring than the pansy, it would have to be the sweet pea. As delicate as the wan spring sunlight, sweet peas' ruffled petals and gentle fragrance are irresistible. Although the stems and petals are physically delicate, the sweet pea is fairly cold hardy and can be planted out well before last frost. Plant them where the viny stems can find support and reach up to the sun, but keep their roots in shady soil. Low, bushy plantings around the base will help keep roots cool and cover up bare knees. The cut flowers are short-lived, but picking the blooms will keep the plant producing more of them. You'll want to make the most of your sweet pea vines while they last. Sweet peas will start to fade when temperatures top 65 degrees.
Snapdragons
Not many flowers can double as toys, but snapdragons, so named because children (and adults) love to manipulate the petals like monstrous mouths, make entertaining playthings. Even when left to grow in the flower bed, snapdragons are delightful and there is a variety to match any garden's color scheme. The seeds should be started indoors six to eight weeks before last frost, but if you missed your chance, the nurseries are full of them now, ready to be planted out.
Stock
The name stock is as dull as the name snapdragon is fanciful. Its scientific name, Matthiola, is a little better, but I prefer the old-fashioned gillyflower. Whatever you call it, whether you plant the single- or double-flowered kind, or whether you choose them in pinks or blues, stock is charming. These cool season bloomers are best in window boxes and planters where you can see them up close and appreciate their faint, spicy scent. Although usually grown as an annual, in mild climates, stock may behave like a tender perennial.
Sweet William
Technically a short-lived perennial, sweet William is commonly grown as an annual. Although the two are related, sweet William bears little resemblance to the unscented, ruffly flower of boutonniere fame. Sweet William has only five bicolored petals and a light scent of clove. It is a homey cottage garden favorite that attracts bees and butterflies. Usually found in shades of pink, the little flower can be as sweet as its name, but it has the potential for drama with some varieties occurring in red and deep burgundy.
Larkspur
Larkspur can refer to the perennial genus Delphinium or the closely related annual Consolida. If you're looking for cool-season annuals, Consolida's charms can't be beat. Unlike the dense spires of Delphinium, Consolida's loose, spiky flowers are aptly described as spur-like. Like their perennial cousins, they are most notable for lovely blues, but varieties are available in a range of pastels. They make wonderful additions to the flower border and to flower arrangements indoors. In the right conditions, these Eurasian wildflowers can self-sow, gracing your garden with early blooms year after year.
Violas
I know what you're thinking, but look closer. Although they are both members of the same genus, there is a reason some members of the genus keep the name viola and others are popularly called pansy. Where pansies have large, ruffle petals, violas tend to have smaller, more precious looking flowers. They may come in the same saturated, multicolored hues as pansies. Their faces are also ornamented with fine black whisker-like stripes. But they can also come in subtler, monochromatic purples with sweet, heart-shaped leaves. Pansies and violas share much in common, but they are not the same thing, and will make a different effect in your garden.
Pansies are popular for good reason, but they are far from the only option to supply spring color. Indeed, the abundance of blossoms available to jumpstart your spring flower garden is unmatched by any other season. This year, look beyond pansies and you might be surprised what you fall in love with.