Calendula actually likes the cold.
Calendula (Calendula officinalis) was one of the first flowers I ever grew, probably due to its cold resistance. Here, it often is among the only plants still blooming when the snows begin. Its name—similar to calendar—actually derives from its ability to flower year-round in some climates.
Also called pot marigold, it originally was a bit on the plain side, looking like a simple orange daisy and often considered an herb rather than a decorative plant. These days, however, it comes in more frilly forms and complicated colors, with flowers 2 1/2 to 4 inches across and heights ranging from 1 to 2 1/2 feet.
I am especially fond of the types—like 'Kablouna' and 'Kinglet'—which sport crested centers. I lean towards those which are liberally painted with red too, such as 'Red Devil,' 'Bronzed Beauty,' 'Neon,' 'Zeolights,' and the 'Sherbet Fizz' pictured in the banner here. Also available are a type with quilled petals, called 'Radio,' and 'Geisha Girl' with blooms like an incurved mum. Cultivars which have moved beyond the typical oranges and yellows include such unusually colored varieties as 'Pink Surprise' and 'Snow Princess.'
Members of this genus don't care for hot temperatures and will make more lanky foliage and smaller blooms in mid-summer. Once the cooler days of autumn roll in, however, any which have survived the heat wave begin to look much more stoutly satisfied. Since they grow rapidly, some of those you see strutting their stuff in October and November may actually be the self-sown children of the summer bloomers. In southern zones, they can flower all winter, though snow usually snuffs them here.
In one year that especially suited the plants, I got some especially lovely crosses in the second generation, from which I probably should have saved seeds. I'm guessing our weather was dryer back then because calendulas don't seem to like our recent soggy summers—perhaps due to a preference for fast-draining soil. But, as proved by the photos here, they still manage to soldier on.
Large and often C-shaped, calendula seeds are easy to plant and should be sown 1/4 inch deep in damp seed-sowing mix or in the ground. If kept at cool temperatures—in the 60s F— they should germinate in about 6 days or so. Some will bloom within 45.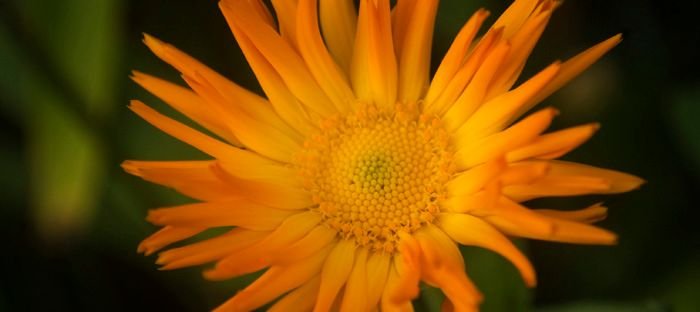 Calendula has "much the same scent and gust" as the other marigold, writes Louise Beebe Wilder in The Fragrant Path. She adds that "It was famous in the cookery of bygone days when the palate shrank not from strong flavours and the stomach was a hardy and serviceable organ." That could be her way of saying that, although edible, it may not agree with sensitive stomachs! However, several Dave's Garden members mention eating the petals in salads and other dishes--apparently with no ill effects.
I still am waiting for another 'Summer of the Calendula" when my plants perform as well as they did in that halcyon past. In the meantime, however, they still can light up chilly days after all my other annuals have succumbed to the inevitable.
---
Photos: All of the calendula photos are my own.