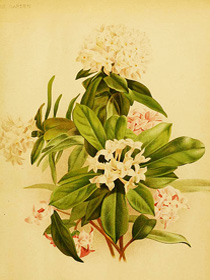 Some daphnes aren't difficult. In December of 2015, I received seeds in a Secret Santa swap which the gift giver called "probably Daphne mezereum," though she wasn't certain about that. They germinated well after treatment with gibberellic acid and the seedlings continued to survive all summer despite being left at close quarters in a planting pack.
Since they hadn't grown much by autumn, I placed only a few of them in the ground then and put the rest under my plant lights indoors. They continue to survive in their cramped quarters despite dropping their leaves over the winter, as deciduous shrubs are apt to do! I'll try to remember to set them out after the weather warms this spring, so they will have plenty of time to put down roots before another winter sets in.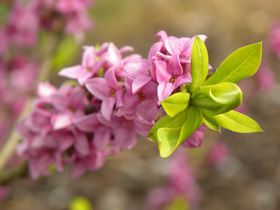 This daphne is hardy to my USDA zone 5, as are Daphne genkwa and x D. transatlantica. Those of you who live in zone 4 might want to try the even tougher D. x burkwoodii or cneorum instead. The daphne often considered the most desirable, D. odora, unfortunately also is the most particular! That one usually is only recommended for three USDA zones--7 through 9. Even there, it apparently has a propensity for sudden death. Perhaps due to an undiscovered virus, perhaps due to its tendency to bloom during winter, perhaps due to pure cussedness. Who knows?
To keep from "offending" yours, avoid change as much as possible. Set the plant in sandy soil when it is young, in a position where it receives shade during the hottest hours of the day and sun the rest of the time. Mulch it to keep its roots cool, and then adopt a hands-off policy. As Michael Dirr puts it in Dirr's Encyclopedia of Trees and Shrubs, "Do not move, prune, or abuse in any way." Despite being a shrub expert, Dirr has lost plenty of D. odora plants, but he still considers them worth growing for their outstanding scent.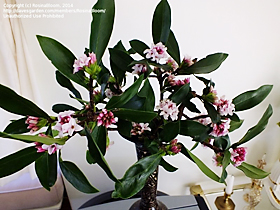 Nineteenth century gardeners who lived further north were able to force potted Daphne odora plants into winter bloom indoors, because their homes were chilly enough to suit the plant. Modern homes aren't.
In The Essence of Paradise, Tovah Martin reports that you still can manage the forcing feat if you have a cool greenhouse where the temperature drops to near freezing at night for several weeks. She warns, however, that you must grow the plant in very sandy soil in a clay pot to avoid root rot.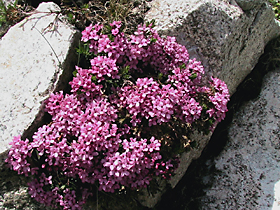 Sowing daphnes can be about as dicey as keeping them alive, since it often takes a while after the seeds split for them to send down roots. I treated the mezereum seeds with gibberellic acid because Norman Deno mentioned--in the first supplement to his Seed Germination Theory and Practice--that the acid sped up leaf and stem growth in that particular species. However, he didn't recommend it for other daphnes. You can find my hints on using GA3 in a previous Dave's Garden article at the following link.
Smoke, Gibberellic Acid, and Ethylene: Strange Ways of Treating Your Seeds
For other daphnes I would recommend that you harvest and sow the seeds outdoors as soon as they are ripe in late summer or autumn and hope for germination in the spring! Better yet, just buy a plant. Although I have mentioned the cussedness of one particular daphne, it probably doesn't begin to compare to the cussedness of we gardeners who are drawn to certain plants simply because they are challenging!
---
Photos: The enhanced banner photo of Daphne odora is by Deborah Hollister and the enhanced Daphne mezereum photo by nicolas_gent, both courtesy of Flickr Creative Commons and this license. The Daphne odora photo is by Rosinabloom from the Dave's Garden PlantFiles and the enhanced Daphne cneorum photo by Isidre Blanc, courtesy of Wikimedia Commons and this license. The antique Daphne odora image is from an 1885 edition of The Garden, courtesy of plantillustrations.org.