Dangerous? Yes. Not just because of the wild animals such as bears or snakes, but also because of the deadly toxic plants you may come into contact with. While some are only deadly if you eat them, others can get you even if you do not touch them! For example, the Manchinee tree has a dangerous sap that can give you some severe blisters if you stand underneath it when it is raining. Sneaky tree. Here are 10 of the most dangerous plants you may encounter in the wild (or even in your back yard).
Manchineel Tree (Hippomane mancinella)
This large tree can grow up to 50 feet tall and it is not the friendly sort of flora. In fact, it may be the most toxic tree on the planet. You can find them in Florida, South America, Central America, and the Caribbean, although I am not sure why you would want to find them. Touching them will give you a horrible and painful rash from the toxic sap that can actually burn the paint off of cars. Do not stand under it when it rains or you will get burned by the rain that touches the tree. Also, you definitely do not want to eat the fruit, which looks like a small apple, or you take the chance of your throat swelling enough to suffocate you from the toxic physostigmine and phorbol. Smoke from burning the tree can cause blindness too so your best bet is to stay away from this toxic tree.
Castor Oil Plant
According to the Guinness Book of World Records, the Castor Oil plant (Ricinus communis) is the world's most toxic plant. The seeds contain ricin, and it only takes four to eight seeds for it to be fatal. Luckily, as soon as you bite into the plant, your mouth will start to burn so you will most likely spit it out without swallowing it, which will save your life. If not, you should expect bloody diarrhea, severe stomach pain, and may lead to death if not treated within several days of ingestion.
Rosary Pea or Crab's Eye
The Rosary Pea (Abrus precatorius), which is sometimes called Crab's Eye, is also one of the most lethal plants if eaten. The seeds are bright red and have a black dot, making it look like a crab's eye (hence the name). The seeds and plant both contain a deadly toxin called abrin, which prevents the cells from working as they should. This makes it hard for your body to synthesize protein and will eventually cause death. As a matter of fact, just one seed can kill you.
Belladonna or Deadly Nightshade
Belladonna (Atropa belladonna) is also known as Deadly Nightshade, which is a plant in the family that includes potatoes and tomatoes. The plant is common in the United States and is recognized by its purple flowers that are shaped like a bell. They have small berries that actually taste sweet and this is why many children have been killed by these plants. The berries and the foliage are both toxic and contain tropane alkaloids such as scopolamine and atropine. This can cause hallucinations, delirium, and paralysis due to its effects on the nervous system. Other symptoms include confusion, headache, blurry vision, light sensitivity, dilated pupils, and convulsions. Just two berries can kill a child and 10-20 can kill an adult.
Doll's Eye
Doll's Eye (Actaea pachypodais), also called White Baneberry, is a plant native to the United States and is so poisonous that it can cause death immediately after eating. This plant gets its name from the white berries that is round and white with a black dot in the middle, looking like a doll's eye. The whole plant is toxic, although the berries are the most deadly because of the concentration of poison. Children are usually the victims because the berries look like doll's eyes and they taste sweet. The cardiogenic toxins in the plant slows the heart muscle until the victim's heart stops beating.
Snakeroot
Snakeroot (Ageratina altissima) is so toxic that you can die from it without even eating it. This is because you are able to get sick and die just from drinking the milk or eating beef from a cow that ate Snakeroot. The poison in the Snakeroot is Tremetol, which causes extreme diarrhea and vomiting, stomach pain, and trembling. Although it is rare, you can die if you ingest enough meat or milk contaminated by a cow that ate Snakeroot. In 1818, Abraham Lincoln's mother, Nancy Hanks Lincoln, died from consumption of contaminated cow's milk or beef.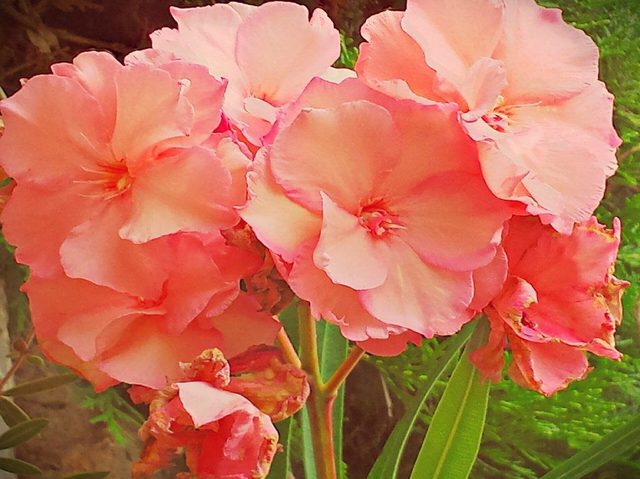 Oleander
The Oleander (Nerium oleander) bush is a common but dangerous flowering bush that you will likely see as a decorative shrub in parks, backyards, and even schools. Although it seems unlikely that you or someone else would decide to snack on one of these pretty flowers or its foliage, it does happen. The symptoms of the poison are usually nausea, vomiting, bloody diarrhea, stomach pain, irregular heartbeat, drowsiness, seizures, coma, and death. Also, the sap from the Oleander may cause dermatitis, eye irritation, and allergic reactions.
Hemlock
The flowers of a Hemlock (Apiaceae cicuta) plant are very similar to Parsnip or Queen Anne's Lace flowers. It is the similarity to Parsnip flowers that causes so many poisonings. This is one of the most toxic plants in North America with a cicutoxin that can cause central nervous system (CNS) damage. Some of the signs of Hemlock poisoning include dizziness, tremors, weakness, vomiting, diarrhea, stomach pain, confusion, seizures, and death. The seizures cause swelling in the brain, kidney failure, and muscle breakdown, which causes death without prompt treatment.
Horse Nettle
The fruit of a Horse Nettle (Solanum carolinese) is what makes this plant so lethal because they look exactly like small cherry tomatoes. You can find Horse Nettle growing wild in almost all 50 states and Canada but, remember that edible tomatoes do not grow in the wild. If they are not grown in your garden or bought at the store, you should not eat them. While the whole plant is toxic, the fruit is the worst and will cause headache, slowed heart rate, trouble breathing, abdominal pain, nausea, and vomiting.
Pokeberry
The pokeberry (Phytolacca americana) is native to the United States and can grow up to 10 feet tall. The flowers are whitish green with purple to black berries that are extremely poisonous. It is the berries that are most inviting and just a few can be fatal for a child and 10-15 can be fatal to you, so do not even try them because they look good. In fact, the entire plant is deadly, with the root being the most poisonous. Adults have been poisoned from eating the roots and shoots because they were mistaken for Horseradish, Artichoke, or Parsnip plants.
The best thing to do if you go hiking or camping is to bring your own snacks so you do not get hungry enough to eat the plants you see while walking in the woods. Take along trail mix, beef jerky, and dry fruit. You should also bring plenty of water just in case you get lost. Remember, do not eat it if you do not know what it is. Happy hiking.