Who couldn't use a little cheer this year? Our lives have been forever changed, and it sometimes seems there's little to be cheerful about these days. However, I can't help but smile when I see the Johnny-jump-ups with their happy faces emerge in late winter and early spring. They definitely live up to their common names, heart's ease and tickle-my-fancy.
(Image courtesy Auntie Dogma's Garden Spot)
What they represent
The meaning behind this birth flower conveys the idea that a person born in February shares similar traits and natural tendencies with the violet.
One tradition says violets first appeared at the time the Archangel Gabriel told Mary, also known as Viola Odorata (meaning Our Lady of Modesty), of her son's impending birth. In Christianity, the flower came to stand for modesty, humility, faithfulness, and devotion, which are meanings frequently depicted in religious art.

(The Wilton Diptych (c.1395-1399), painted for King Richard II)
What is a violet?
Viola is the largest genus of flowering plants in the family Violaceae, containing between 525 and 600 species. Most species are found in the temperate Northern Hemisphere; however, they can also be found in widely diverse locations, such as the Andes and Austrailia.
Members of the species can be annuals, perennials, or small shrubs. The word pansy is most often used for the large-flowering, multi-colored cultivars grown from seed and used extensively as bedding plants. The terms viola and violet usually denote the smaller-flowered annuals or perennials, including the wild species.
(My wild violets)
In the garden
The varieties grown as garden plants are mostly small-flowered annuals or short-lived perennials. However, many varieties readily self-seed, providing years of free plants along with lots of enjoyment. They are primarily cool-season bloomers perfect for starting and ending the growing season in cold climates, and useful for bridging seasons in warmer zones. They sometimes bloom throughout the winter. The timing for planting violas will depend on your climate.
Violas are also edible and make lovely and unusual garnishes and salad ingredients. They can be candied to achieve a frosted effect and used to decorate cakes.
(Viola sororia and Violoa sororia 'Alba' covering my backyard)
In mythology
According to Greek mythology, violets were created when one of Artemis' nymphs, who had all sworn to stay unmarried, was being pursued by her twin brother, Apollo. To protect her, Artemis transformed her into a violet. This eventually resulted in the violet becoming a symbol of modesty in ancient mythologies.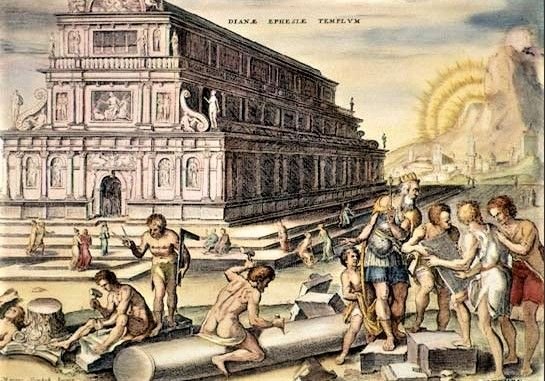 (The fame of the Temple of Artemis was known in the Renaissance, as demonstrated in this imagined portrayal of the temple in a 16th-century hand-colored engraving by Martin Heemskerck.)
Growing tips
Violas can be cut back in midsummer when they become scraggly to encourage new growth and reblooming when cool temperatures return in the fall.
They're useful in mixed plantings with other low-growing perennials.
They make pretty groundcovers, are excellent under deciduous trees, and can be used alone or with other plants such as the common periwinkle.
Use violas anywhere you need an extra punch of color in spring, such as among edging plants or spring bulbs, and in containers, mixed beds and borders.
(Above: my Viola cornuta 'Etain')
(Above: bird's foot violet/Viola pedata 'Eco Artist Pallet')
(Above: Viola x wittrockiana 'Chalon Supreme'; below: Viola 'Eye of the Tiger')

Primroses
Another early bloomer, Primula vulgaris represents eternal love.This perennial is native to western and southern Europe, northwest Africa, and parts of southwest Asia.
(Above photo mine)
In the garden
The wild primrose is a staple of cottage gardens, and is widely available as both seeds and bedding plants. It grows best in moist, well-drained soil in light shade. The throat is usually a deep yellow color.
As individual flowers fade, pinch them off at the base of the stem. Deadheading keeps plants tidy and lengthens the flowering period.
The English take their primroses very seriously. In England, the wild primrose is protected by law. Anyone who intentionally uproots or destroys wild primroses can be charged with a crime!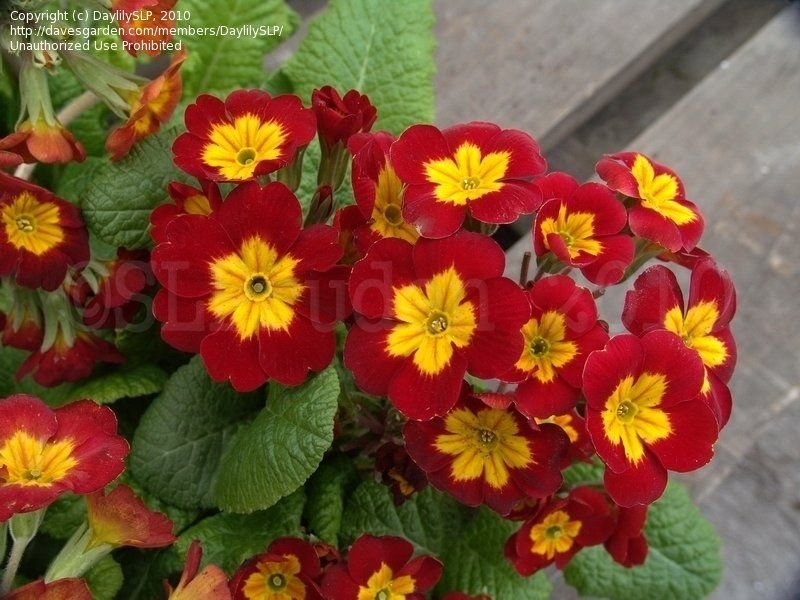 Hybridization
Primrose breeding became popular in the nineteenth and early twentieth centuries. Hybrids with an extended flowering season are now available in a wide range of colors, including white, bicolors of yellow and red or yellow and brown, and all shades of red, as well as pink, purple, dark brown and dark blue.
P. vulgaris and its subspecies have gained the Royal Horticultural Society's Award of Garden Merit.
A wee bit o' folklore
In Celtic tradition, the primrose, a symbol of safety and protection, was believed to hold the keys to Heaven and considered sacred.
Primroses placed on a doorstep or planted nearby were said to encourage the faeries' blessing on the house and its inhabitants. Another old superstition claimed if you ate primrose flowers, you would see a faerie. I may have tried that once or twice, but all the faeries must have been busy somewhere else.