No matter where you live and how much you love the warmth of summer, it is hard to resist the beautiful colors of fall foliage. In the Missouri Ozarks, it can be really breathtaking, especially if you see them reflected in the water of Table Rock Lake or any other body of water for that matter. Even if it is just a puddle. So, the first day of fall is kind of a big deal here in my neck of the woods. Although I really hate to say goodbye to summer. Then again, it is just another day closer to spring, which is actually my favorite season. You probably already know that if you have read any of my articles. I think snow is pretty but only if it melts right away because I just do not like being cold.
What is so Good About Fall?
Some people really love the fall, not just for the foliage but because they like the cooler weather, pumpkins, and not having to mow their lawn. Okay, one awesome thing about fall is Halloween. It has always been my favorite holiday. Even though my kids are all grown up and we have never had a kid here in seven years, I love the little fun-sized candy. Seriously, I buy it for me and the hubby because it is better if you just eat a tiny candy bar rather than a full-sized one. Right? That is my thinking anyway. Well, back to the fall colors.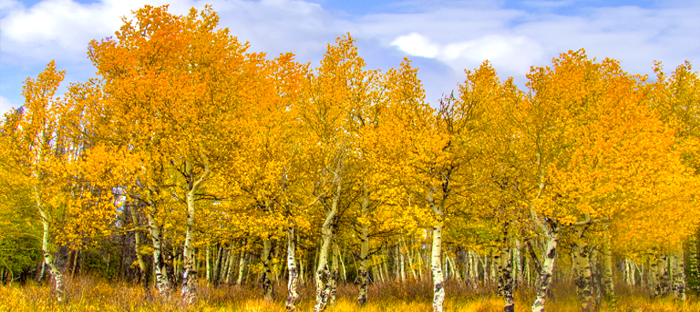 Top 10 Trees
There are tons of trees that change color during the fall. In fact, almost all of them do. If they do not change color, they usually just fall off, which is why it is called fall, I guess. Here are the top 10 types of trees that made the favorites on the most popular websites:
Paper Birch (Betula papyrifera) grows to up to 50 feet and are typically red and yellow in the fall with white, peeling trunks. That is why they are called the paper birch.
Sugar Maple (Acer saccharum) have black or gray branches topped with orange or yellow leaves and grow up to 75 feet.
Dogwood (Cornus florida) has gorgeous red shiny leaves that can even look purple in some areas and grows up to 30 feet tall.
Vine Maple (Acer circinatum) has reddish-orange to scarlet leaves and grows to 35 feet tall.
Red Oak (Quercus rubra) is a northern tree with orange and red leaves with acorns that feed deer, squirrels, and other critters. It can grow up to 75 feet.
Aspen (Populus tremuloides) is very popular and has round leaves that turn gold to orange. They can grow up to 50 feet tall.
Bitternut Hickory (Carya cordiformis) Grows up to 75 feet or more and is one of the first trees to change color every year. Their long leaves are yellow and they have bright yellow buds.
Sassafras (Sassafras albidum) has mitten-shaped leaves that can be purple, red, orange, or yellow and it grows up to 50 feet.
Washington Hawthorn (Crataegus phaenopyrum) grows up to 30 feet and has glossy red fruit and purple leaves.
Black Tupelo (Nyssa sylvatica) has yellow, orange, and purple leaves with gray bark.
Shrubs Can Be Pretty Too
There are plenty of bushes and shrubs that turn beautiful in the fall as well. It does not always have to be a tree to be pretty in the fall. There are plenty of small trees or large bushes that can even look better than most trees. Here are some of my favorites:
Bottlebrush Buckeye (Aesculus parviflora) is a southeastern favorite that turns yellow in the fall and has fruit that makes it look even more attractive.
American Cranberry Bush (Viburnum trilobum) has gorgeous ruby red leaves accented by groups of long-lasting, bright red fruit.
Sweet Pepperbush (Clethra alnifolia) loves swampy wet areas and grows to about four feet tall. The foliage turns bright yellow in the fall, making it a bright spot in your yard any time of the year.
Winged Euonymus (Euonymus alata) is a strikingly red shrub during the fall that stands out against the other foliage.
Spicebush (Lindera benzoin) is a lemony smelling bush that turns red, orange, and yellow during the cooler months.
Blueberry Bush (Vaccinium corymbosum) is the most popular bush in the world. Not only can you eat the berries, but the leaves turn red during the fall.
Sweetshrub (Calycanthus floridus) is a pretty plant with red flowers and long leaves that turn yellow in the fall. They also smell amazing.
Witch Hazel (Hamamamelis sp.) is not just another pretty bush with orange leaves and winter flowers. It is also used for making certain elixirs.
Redvein Enkianthus (Enkianthus campanulatus) has scarlet red leaves during the fall and even loves the shady spots in the yard.
Red Chokeberry (Aronia arbutifolia) is another red bush that can go from red to scarlet with red fruit.
Planting Bulbs for Spring Flowers
Fall is also a great time to plant bulbs such as tulips, lilies, iris, hyacinths, crocus, and daffodils. Plant them at least four inches deep and cover them well and they should bloom next spring. Which is my favorite time of the year. But you already knew that.