Flower Carpet® roses, also known as The Carpet Rose®, are a popular ground cover that can produce up to 2,000 flowers from spring bloom until the end of fall. They're very low maintenance and exceptionally disease resistance. Flower Carpet® roses are also drought tolerant. These roses have a two-tier root system that allows their surface roots to use any available water near the surface and, once established, a tap root seeks out deeper water during drought conditions.
(Flower Carpet® Amber)
To help them become well established, mix a handful of fertilizer into the soil around the roots at planting time, and keep the area around the plant moist for the first six months.
Prune in late winter or early spring, Use a pair of garden shears to cut the plant back by two-thirds in any form you'd like. In spring, glossy green foliage will emerge followed by a mass of new flowers in late spring. As a bonus, they're also self-cleaning, dropping their spent petals to the ground.
The Next Generation Flower Carpet® roses have improved heat and humidity tolerance and excellent disease resistance. The newer varieties include 'Amber', 'Scarlet', and 'Pink Supreme'. Flower Carpet® roses have received over 25 Gold and International Rose Awards.
(Flower Carpet® Amber)
Drift® roses are becoming one of most desirable rose bushes on the market. A cross between a groundcover rose and a miniature rose bush, they are very compact and will only get about 2 feet tall and about 3 feet wide. The Drift Series® was bred by Star Roses and Plants to be a low maintenance groundcover rose. They will survive in hardiness zones 5-10.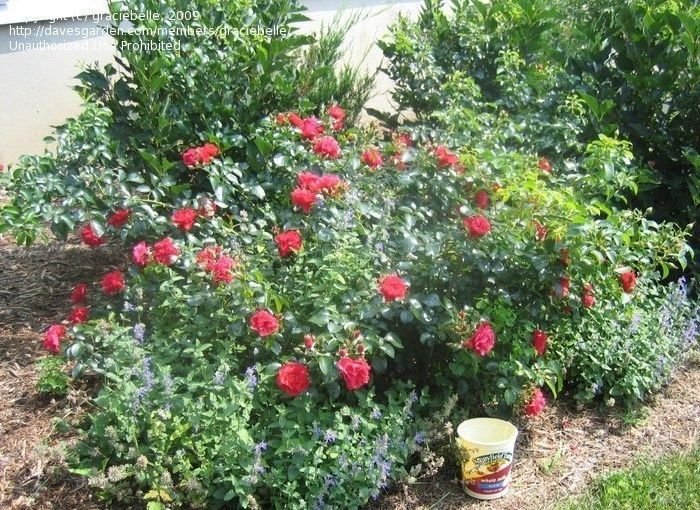 Drift® Roses feature excellent disease and insect resistant. They do not require any spraying and are winter hardy to zone 5. They're excellent for planting in clusters, containers, and hanging baskets. Most Knock Out® roses can get quite large. The Drift® Rose fills the gap in the landscape where smaller areas need colorful shrubs. Drift® roses come in a wide variety of colors.
(Oso Easy® Lemon Zest
As groundcover roses mature, they need to be pruned to maintain their strength and vigor. The best time to prune these roses is in the spring. There is no perfect way to prune a Drift® Rose. Just be sure to take about a third to a half of the plant. They will grow back stronger and with more blooms. You can simply take a pair of shears, start cutting off the existing branches from last year, and dispose of the cuttings. The best time to plant your Drift® Rose is any time of year. All they need is water and sunlight.
Prepare a hole two and a half times the width of the root ball. Make sure the location gets 6-8 hours of direct sunlight a day and drains well. Put the rose into the hole and backfill with soil. Always make sure you fully soak the hole with water after planting. Mulch with a 1-3 inch layer of any type of mulch to keep in moisture and control weeds.
Drift® Roses clustered together in groups of 3 or more can add a big pop of color to a yard. The blooms will grow together as one and stand out in the landscape. Space the plants 3-5 feet apart. Stagger them so they are not in a straight line.
If you choose to plant them in containers but live in a growing zone that's not suitable for containerized roses, bring them inside for the winter months to protect from winter damage.
Proven Winners Oso Easy
®
series is a low maintenance rose that blooms prolifically from early summer to frost. Some varieties have single flowers; others are semi-double. Color variations include pink, red, yellow and orange. Roses in the Oso Easy® series are becoming known for exceptional disease resistance to black spot and powdery mildew. These roses are self-cleaning and require little or no pruning. As with any rose, the Oso varieties are best grown in full sun and will benefit from good air circulation. They prefer well drained, slightly acidic soil with medium moisture.
(Oso Easy® Fragrant Spreader)
Each of these rose varieties is unique, but they are all similar in their ease of care, numerous color choices, and variety of uses in the landscape. They're hardy, versatile and beautiful just like their larger rose relatives. It has been said that good things come in small packages. This is definitely true of Flower Carpet®, Drift®, and Oso Easy® roses.
(Oso Easy® Cherry Pie)
Sometimes ground cover roses touted to be resistant to black spot and mildew have proven not to be. They may perform well the first year, but each succeeding year become more troubled by these diseases. It's important to always follow standard practices of good rose care.
(Oso Easy® Italian Ice)
(Oso Easy® Mango Salsa)