Bee balm for the wildlife and the kitchen
Monarda, or bee balm is such a useful plant. There are so many different things that it is good for, that every garden should have a patch. The name itself gives us a clue as to one of its uses. It is an absolute magnet for bees and pollinators. When the plants are in bloom, the area will literally hum with activity. This lovely member of the mint family also attracts hummingbirds and the leaves are a host plant for several moths, so it should definitely be included in a butterfly and pollinator garden.
Bee balm also has culinary uses for humans. The plants, when dried and ground make for a soothing tea. In fact, the American colonists substituted bee balm for their tea after the Boston Tea Party took place. The flowers are edible and often flavor beverages, salads and deserts. They bake up well in cookie and cake batter and can even be steeped with vodka to make a unique extract. Monarda with the red flowers is the most flavorful and the ones with the lavender flowers are the most citrussy. The image above is a lovely selection that leans more to the purple side of the spectrum than the red.Taste your flowers before you use them to make sure the flavor will go with what you are planning to make.
Monarda is also medicinal. The leaves and the flowers have antibacterial and antiseptic properties that are good for cuts and bruises and a steam produced by boiling them reduces inflammation in the mucus membranes. A soothing balm is made from a decoction. This is a process where a concentrated liquid is made from repeated boilings of the tea. This is mixed with oils or beeswax to make a soothing balm, thus the name, bee balm. Monarda also makes a nice peach or salmon natural dye.
Growing monarda is easy. It is a perennial plant native to North America and thrives in sunny, moist conditions and is hardy in USDA Zones 4-9. Plants grow between 2 and 4 feet tall with a spread just about as much. There are a number of cultivars and colors available. Space plants about 24 inches apart in moisture-rich, well drained soil. Make sure there is good air circulation because powdery mildew is one of the few problems this plant has. Cut the plants back to about three inches after frost takes them down and mulch well. Your monarda should live for many years. Divide every three years for the healthiest plants.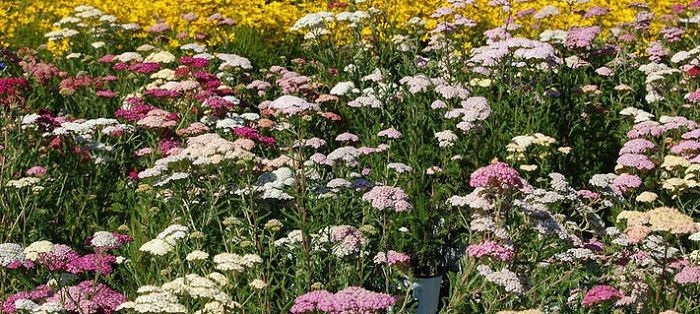 Yarrow for the medicine cabinet and pollinators
Yarrow (Achillea millefolium) is another multi purpose plant. It is a native perennial in the temperate areas of the Northern Hemisphere and was a plant well-known by the ancients. Leaves from the plant have the ability to staunch wounds and the Roman healers carried it with the armies wherever they conquered. Common names like nosebleed plant, woundwort and staunchweed attest to its blood-clotting abilities. The ground leaves mixed with oil or water to make a paste helps soothe rashes and sunburn and tea from the flowers relaxes and relieves anxiousness.
In the kitchen, yarrow is sometimes used in place of tarragon as a seasoning. However, it turns quite bitter under high heat, so add it at the end to maintain the best flavor. Flavor oils and vinegars with yarrow for something unique to splash on your salad. Yarrow also makes a wonderful light gold natural dye. Plant yarrow in the butterfly and pollinator garden and your winged visitors will love it. Honeybees and butterflies are especially fond of the flat-topped flowers. It has few pests and deer even refuse to browse it, so if Bambi uses your garden as a private buffet, this would be a good choice. Bird nests that include yarrow leaves are found to contain less lice and other parasites, so it is a great plant to include in a wildlife garden.
Yarrow is a good choice to help with soil erosion on hillsides and it also helps clean the soil by taking in caustic compounds and heavy metals. It is a great plant to help clean up factory waste areas. Yarrow is hardy in USDA Zones 3-9 and grows well in sunny, well-drained soil. Many colors are available as seeds or nursery transplants. It grows in attractive clumps with the plants reaching about 2 feet tall. It blooms from early summer into early fall and deadhead to encourage more blooms.
Blueberries in the kitchen and wildlife
Blueberry shrubs are another multi-use plant and the fruits ripen in mid-summer. Why have a plain boxwood hedge when you can have one that produces fruit and helps the environment. The genus Vaccinium is native to the Northern Hemisphere, mainly Europe, North America and Asia. Ancient peoples dried the fruits and added them to many foods. The blueberry flavored meats and stews and was carried dried on the trail as a traveler's food. The fruits are now known as a superfood because of all of the antioxidants they contain and the nutrients help prevent diabetes, heart disease, obesity and a host of other conditions. Antioxidants are also connected to cancer prevention, however more research needs to be done on that. For the best results, consume your blueberries fresh because freezing them diminishes the antioxidant effect.
It was also a wonderful natural dye that colored cloth and woven baskets. Blueberry bushes are a food source for our butterflies and pollinators and there are a number of butterflies that use the plants as a host plant for their caterpillars. Plant blueberries in full sun in soil that is slightly acidic. There are a number of varieties, so check the height and climate range to find one suitable for your property. There are even small blueberry bushes that would be quite content in a container, so people with balcony or patio gardens can even grow blueberries.
Blueberries also make a good selection for a wildlife garden. Birds adore the berries and raccoons, foxes and other mammals like the fruit as much as humans. Berries left on the bushes in the fall make winter forage too. Blueberries also have a lovely fall color, ranging from reddish orange to various shades of red and yellow.
Dogwood trees for multi season interest
Dogwood trees are another multi-use plant. The genus Cornus is is native to most of the Northern Hemisphere and while it isn't technically a summer plant, it is such a multi purpose plant that it provides four seasons of interest. The various species are known for showy, large flower bracts that appear in the spring. They are generally small to medium sized trees and are very nice in most landscapes. Not only to they have a lovely spring show, but they produce attractive fruits in the fall that wildlife adore. Autumn color is also spectacular with most having dark red or scarlet leaves, so it is a focal point in more than one season.
Tea from the bark was used as a malaria treatment, however we do have better drugs today that are much more effective. The leaves have astringent properties and can be crushed and used to stop wounds from bleeding. The twigs can be used for a very effective wilderness toothbrush as well, and the wood is hard and attractive and makes excellent handles for knives and other tools. The roots produce a red natural dye. The fruits are inedible raw and even considered slightly toxic, however with the seeds removed and cooked with other berries or fruit, turns into a very nice jam or jelly.
Dogwood trees are perfect for a wildlife and pollinator garden. They are host plants for a number of the large, showy silk moths and several butterflies. The early spring flowers provide pollen and nectar for early foraging honeybees and several species of songbirds favor the branches to build their nests. And besides foxes, squirrels and deer, there are more than thirty species of birds that love the fruits. Dogwood trees are naturally understory trees, living on the edges of the forest. They do best with a bit of afternoon shade in hot climates, however in more temperate areas, they thrive in full sun as long as they receive ample moisture. They do best in USDA Zones 5-9. The colors of the blooms range from pure white to almost red, so there is sure to be one that fits your garden style.
Choose multi-use plants for your garden
There are many plants that serve multiple uses and by doing a bit of homework, a gardener can have several of these gracing their gardens. Instead of a plant that has only one great feature, why not search for something with spring blooms, fall color, pollinator-friendly, medicinal or culinary uses. These four plants are just a few of the choices available, so when deciding on a new plant, take all the potential uses into consideration before making a purchase.