Who says hot chocolate or cider needs to come in a package? Sure, it's fine if you are in a hurry and you can just stir a bit of pre-measured powder into a mug. However, there's a whole world of flavors that pair well with these winter drinks and many of them are right in your garden. This opens up all sorts of possibilities.
Use garden herbs for gourmet hot chocolate
First of all, why does hot chocolate have to be brown? Rather than using the pre-mixed stuff or the powdered cocoa in the baking aisle, why not use a premium eating bar? There are a number of luxury chocolate companies out there and white chocolate is often in their offerings. If you don't want to use the white chocolate, then one of the premium dark or semi-sweet bars is also an excellent choice. The darker the chocolate, the better as far as I'm concerned, so the premium bars sound especially appealing. The better the chocolate, the better the end result. So splurge and pick something that you would enjoy eating. The choice of liquid is next and while dumping a packet of powder into a hot cup of water is fast, it certainly isn't very glamorous. Use real milk, or better yet, experiment with soy, almond or oat milk. There are many high-quality plant-based milks out there right now and they will all add something unique to your hot chocolate. They are all creamy and will give your hot chocolate something unexpected. After that, the choice of herbs comes next. Mints are an obvious choice as who can resist minty chocolate? However there's much to be said for lavender, lemon balm or basil. Even thyme and rosemary offer pleasant options. Now that we have the ingredients, how do you put it all together?
Make herbal hot chocolate
To properly make herbal hot chocolate, the herbs must be infused into whatever milk you are using. In a small saucepan, heat two cups of the milk with about three tablespoons of the dried herbs. Do not let this mixture boil, however it does need to be hot. Once the milk and herbs are heated, cover the saucepan and let the mixture steep for about twenty minutes. Strain the herbs from the milk and you can either continue with the hot chocolate, or store in the refrigerator until you need it. You will need between three and five ounces of chocolate, depending on your taste. Chop the chocolate coarsely and add to the milk that you've returned to the saucepan to reheat. Stir the mixture until it is hot and steamy, still do not let it boil. Pour this in two of your favorite mugs and top with a few marshmallows if you wish. If you don't want to use herbs, cloves, cinnamon sticks and sliced ginger are all good choices.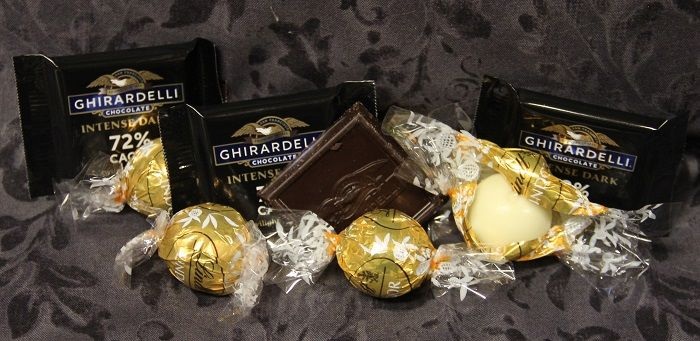 Herbal hot cider is an excellent wintertime choice
Hot cider is another wintertime drink that benefits from your herb garden. There's so many flavors that pair well with this fruity beverage. The apple flavor goes well with mint of course, and there are a number of savory herbs that combine well. Rosemary, thyme and lemon balm are all good choices for herbal ciders. Use cinnamon sticks, fresh, sliced ginger and cloves if you like as well. Some people even slice other fruit to add flavor. Slices of pears, cranberries and even some pomegranate arils can be used. The process is similar to the hot chocolate. Heat the cider with your chosen herbs, spices or fruits to a simmer and then remove from the heat and let everything steep. If using fresh cranberries, only add them once you remove the cider from the heat to minimize splitting. Reheat, strain and pour into your favorite mugs. If you are especially creative, add some red wine or other spirits to kick things up a notch. This is a great way to use leftover spices and herbs that you may have purchased for the holidays. However, if you have your own herb garden, you have lots of choices at your fingertips. Herbal cider can soothe a sore throat or open up congested sinuses as well.
Experiment with herbs and spices this winter
Herbal coco and cider are wonderful taste adventures that you can experiment with the rest of the season. Valentine candy is already on the shelves and there are so many options there, it would be a shame to waste the opportunity. It seems silly to rely on the pre-packaged stuff (yes, there's even powdered cider if you're brave enough) so why not enjoy the flavors of your garden along with the flavors of winter? Your garden herbs and pantry spices make for some unique beverages that will warm up the cold winter days and nights.