Planting roses with companion plants improves their appearance, health, and gives you color and interest for many months.
Why add companion plants to roses? Why not grow them in isolation in rose beds, as was traditionally done, especially with hybrid teas?
The most important reason is defense. You can use companion planting to attract birds, bees, butterflies, dragonflies, hummingbirds and other creatures that will eagerly chomp down the nasty insects, such as aphids, that are attracted to your roses. Historically roses, especially hybrid teas, have been grown in isolation. That isolation creates a monoculture that attracts large numbers of insects that prefer roses. In addition, hybrid teas are grown primarily for the beauty of the flowers, with minimal attention paid to the shape of the plant itself. I personally have noticed that there are few municipal gardens uglier than rose gardens in August, with skinny legged plants that often are rife with disease.
Another benefit is that accompanying plants extend your season. Roses, even repeating roses, are not perpetually in bloom. Once blooming roses imply magnify the argument. With companion plants, you can have color, texture and interest from spring to fall.
You can create interesting shapes. Foxgloves add height. A plant like feverfew adds texture, as will Alchemilla mollis (ladies mantle) and heuchera. Mirabilis jalapa can shoot up to a two to four-foot plant in weeks. Nasturtiums provide pops of color. Geraniums, particularly striatum, add wonderful texture.
You can also add tones that are not in the rose color palette. Until we develop blue roses, borage, cynoglossum, dephiniums and larkspur can provide that shade.
You can even add edibles. Parsley 'Crispum' is one of the most beautiful plants to accompany roses.
One of the easiest, and best rose companions are alliums. There are spring, summer and fall blooming alliums, and they add a lot of interest to rose beds and they are strikingly attractive to beneficial insects. I would like to point out a few that seem less commonly known (except to allium heads). I believe this to be the case because I almost never see them in gardens.
Allium karataviense, hardy in zones 4 to 8, is a little used allium that creates striking effects in beds. It comes in two colors, one light and the other the cultivar 'Ivory Queen', which is more expensive. I actually prefer the "base model". One of the great things about it is that it has fabulous mottled foliage, and that foliage creates interest before, during, and after bloom. I have noticed that in the third year, in good soil, this plant tends to seed, and because it is relatively wide, you must make room for it, or be prepared to transplant it or give it to friends (I have done both).
Allium oreophyllum (aka) ostrowskianum is a product of the Caucasus Mountains. Hardy in zones 5 to 8, it is pinky fuchsia (a rare color for alliums) and grows in clusters. It is very inexpensive. Bunch blooming, it is only about six inches high. It is so pretty that even in bud it is charming. It is better in larger groups, but with a low price that is quite easy to accomplish.
Nepeta is a classic addition to roses. Who has not seen it used in illustrations? But for a nice and lovely twist, try Nepeta grandiflora 'Dawn to Dusk', which I have read is not often used outside of Europe, but which I have grown for many years. It is readily available. It needs full sun, but grown in any soil, and if cut back blooms all season. It is two feet tall, stands quite straight, and it, like all nepetas, deer and rabbit resistant.
Perennial salvia is always a great partner for roses. Here are two: Salvia 'New Sensation Rose', which is a more compact version of Salvia 'Rose Queen', and Salvia 'May Night'. The roses? The incomparable 'Morden Blush'.
But why not try a different salvia: Salvia pratensis 'Swan Lake'? Growing as much as three feet tall, it has tiny, two-lipped flowers, that bloom from early to late summer. This salvia features numerous, dense, upright, spike-like racemes of tiny, two-lipped, deep lavender-blue flowers which rise above dull gray-green foliage to a height of 3'. Its flowers rebloom if cut back.
Just to give you an overall idea of how well roses work with perennials work, here is a picture in which the roses are still in bud (Austin's 'The Dark Lady'). Surrounding it are coral bells (Heuchera 'Firefly' grown from seed, Geranium 'Bevan's Variety', feverfew tetra strain in bud (grown from seed) an Allium christophii. They are staving off invasives from my neighbor's yard behind.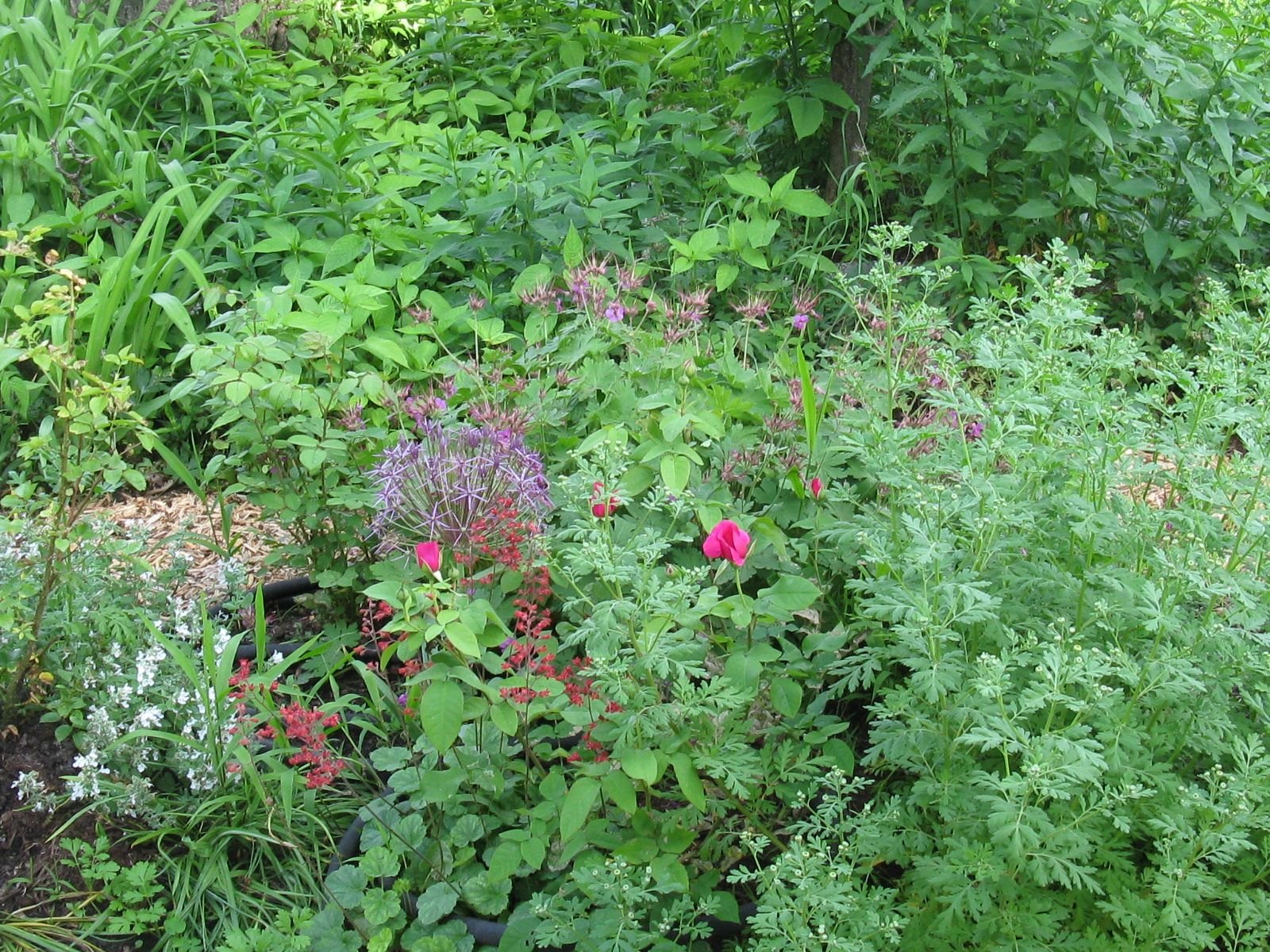 Another unexpectedly great plant for accompanying roses is parsley, especially parsley 'Cripum'. It is beautiful, it attracts benifical insects, and its edible. If you allow it to bloom, you will not only get the parsley caterpillar, but seeds that comes back every year. While not in any way invasive, parsley, which is notoriously difficult to germinate, comes back easily on its own. Mine has returned for the last five year.
And as a bonus, once it blooms...