What is a Hybrid Perpetual Rose?
It is, truly, a hybrid of several old rose groupings. This class came about from the crossing of Bourbon roses with roses from just about every other old rose class. Bourbon roses, please follow this link:
Hybrid Perpetual roses came into prominence during the Victorian era. In terms of breeding, they are, bluntly, all over the place because breeders started crossing every rose they could think of with just about every other rose. So some are hardier than others, some bloom their brains out while others are shyer, and some bloom immediately whereas others may take as long as three years to hit their stride. But most are tall growing, to about 6 feet. Because of their height and structure, some of them can be grown as shrubs or as climbers. They are also terrific pillar roses or great along a fence. The colors range from white to dark crimson. A number have a wonderful fragrance.
Many of these roses bloom very heavily in early spring, with sporadic blooming mid-summer and then a more substantial bloom in fall. They get better with time. The first-year bloom may be sparse, but later, they repeat nicely. They repeat particularly well if they are fertilized well. I give mine organic rose food every month. They also seem fond of seaweed emulsion. Yes, a little more work, but they are stunning to the eye.
If you need organic rose food, here's a 5 pound bag.
Reine des Violettes (Queen of the Violets)
Bred by Mille-Lallet of France and dating from 1860, this rose is very popular with old garden rose lovers.
I have read reviews about this rose in climates as cold as 5a and as warm as 9a. It has a fragrance described as intoxicating by various growers. This rose seems to have different shades in various pH levels. It grows upright to about 6 feet but can be trained to climb as tall as ten feet. The flowers are shaded with a violet tone as the name implies. It is noted by many growers for its disease resistance. It possesses very full flowers, with more than 40 petals and is said by some authorities to be shade tolerant.
And bonus - it is nearly thornless.
I have ordered one and am waiting for its arrival.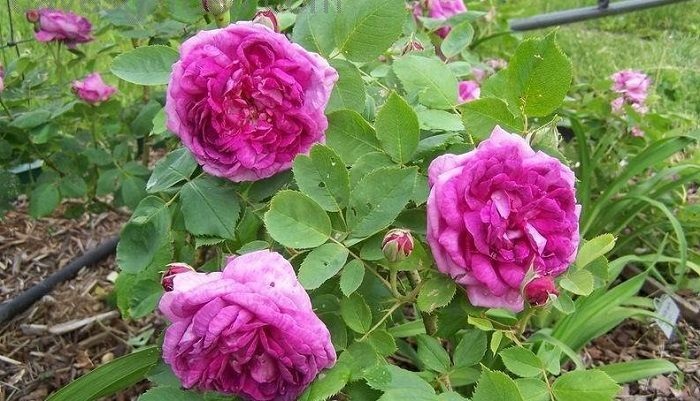 Enfant de France
This rose is a personal favorite. Enfant de France was one of the first four roses I purchased in 2003, at the suggestion of Joel at Pickering Nursery. It was bred by Lartay of France in 1860. It possesses large, silky, heavily scented flowers. The flowers appear to have a silvery edge, which is clearly visible in the picture from my garden. It grows to a height of between 4 and 5 feet. I find it very elegant. Hardy in zones 5 to 11, I also find that it is wonderful in a pot. This is a rose that, if well fed, will produce a large number of flowers. If not cared for, it is less generous.
Organic fish emulsion is great for roses and other plants too. Get a quart and see for yourself.
Paul Neyron
This very popular rose was hybridized by Antoine Levet of France in 1869. A favorite in the Victorian era, is known for its enormous flowers, which can be over six inches wide. It is said to be very fragrant. It is also said to be somewhat linear, so growing it at the back of your bed would probably be wise. It is 4 to 6 feet high and wide, and grows in zones 5 (some sites state 4) to 11.
If your grandmother mentioned "cabbage roses", this is probably the rose she meant. The fragrant, rich pink flowers can be 6 or 7 inches wide. Even though 'Paul Neyron' is no relation to the true 'Cabbage Rose', R. centifolia, it has the wonderful fullness associated with the term, Cabbage Rose. The growth habit tends to be linear, so place it towards the back of the flower bed.
La Reine Victoria
This stunning Bourbon rose was hybridized by Frenchman Joseph Schwarz in 1872. It is relatively slender, at four feet wide, and will fit into your current garden scheme well. It reaches a height of about 6 feet, and blooms from summer to fall. It is very fragrant and has lilac-pink flowers and attractive leaves. The flowers are double, with between 17 and 25 petals. It is hardy to zone 5.
Highly scented lilac-pink double blooms appear recurrently in flushes during the season. Again, it is a good plant for narrow locations because it is both upright and slender.
Jules Margottin
This spectacular rose is attributed to Jacques-Julien Margottin in France in 1853. It is said to be a seedling of La Reine. It is described in Help Me Find as cherry red, with carmine red shading and purple shading. It has about 90 petals (very full is considered to be 41 plus petals) so this is spectacular. The average diameter of the flowers is four inches. The flowers are mainly solitary. Fragrant? Opinions differ. Many say that it is moderate.
It blooms in flushes throughout the season. Do note that it is quite thorny.
I was unable to find a specific zone requirement for this plant.
Mrs. John Laing
This rose is often overlooked, but Should not be because it possesses its wonderful qualities! Hybridized by Bennett of the UK in 1885, it is for anyone who is seeking an old garden rose that combines strong fragrance with continuous blooming. Mrs. John Laing fits the bill with very double and shapely, soft pink blooms on a tidy upright bush. Light green foliage is lush and vigorous. It is hardy to zone 4, with a height of 3 to 4 feet and a width of 2 to 3 feet, it is very full, with in excess of 40 petals in a medium pink tone. The fragrance is a quite strong tea scent.
Souvenir du Docteur Jamain
Hybridized in France in 1865 by Francois LaCharm, this is a very unusual color in that it is a very deep wine shade. It can be a shrub, or it can be trained to climb, and I have read that it actually grows and blooms better with some shade, which also protects the color from bleaching and fading. The medium-sized flowers are flat with yellow stamens, the plant grows to eight feet, and has a width of three to four feet.
It is said to have a wonderful fragrance and has few thorns. It is also said to be very tolerant of poor soils.
Baron Girod de l'Ain
Discovered (as opposed to hybridized) by Reverchon in France in1897, this very special rose is actually the naturally occurring hybrid, or sport, of another rose, Eugene Furst. I am not including Eugene Furst in this article because it is quite disease-prone and has a weak neck (although it is a lovely rose). It is very fragrant and quite double. The flowers are red, and the color blends into a deep shade of pink, with a charming outline of white on the ruffled petals. It repeats in flushes, and does well in full sun or even partial shade, and also does well in poor soil. It is hardy in zones 5 to 9.
Red with white edges, it has a width of three to four feet, making it quite upright and has 26 to 40 petals, and has a strong fragrance. There is conflicting information on the bloom cycle. Some note that it reblooms occasionally. One thing that is clear is that it is pretty darned thorny, which is worth noting if this is an issue for you.
Ardoisee de Lyon
This rose only recently came to my attention. It was bred by Frederic Damaizin in France, 1858, it was then introduced in Australia by St. Kinda Nurseries in 1863. The bloom is described as being violet purple with a crimson center joined red highlights. Some describe it as dark pink with violet shadings. However the color is described, it is fragrant and quartered, and it has a strong, old rose scent.
This zone 4 to 11 hardy rose blooms repeatedly. It grows as high as four feet high and six feet wide, so it is not small, but worth, I think, finding a spot to place it. It is not widely available, but a few nurseries carry it. It's on my list.
If you are a lover of history, and want to grow the roses the Victorians raved about, then explore hybrid perpetuals. Because they are crossed with every rose type under the sun, I have tried to give you an idea of the differences. There are some glorious roses amongst them and I hope that you will give them a try.
Images are my own where noted, or from PlantFiles
When you purchase through links on our site, we may earn commissions at no cost to you.