However, there are many roses that are small, floriferous and healthy, as well as easy to maintain. Let's look at a few.
I remember a time when I thought my garden was too small for roses. Fast forward to the 50 I now have in the ground. The next step was to start growing them in pots, which I have found truly satisfying.
Roses are easy to grow in pots. It's best to avoid extremely large roses, but anything from a miniature to a compact shrub to a small climber can be grown successfully in a pot. I started growing roses in pots when I was under the impression that I did not have enough ground space for a particular rose at my first single-family home. This rose is three feet tall and seven feet wide.
It is also useful to grow a rose in a pot when the location for which you have chosen it is in what I call a "death zone", which I describe as an area in which nothing seems to grow. These places are more likely to be adjacent to a building. Somehow, chemicals in the building's structure leach into the soil. A strong rose can actually handle this for years. I grew the Canadian rose 'Alexander MacKenzie' in such a spot for years before it dwindled down and died. The Harkness Rose 'High Hopes' keeled in a single season. It was only by putting other roses there that I realized what the problem was. Now I am growing 'Florentina Arborose' in a pot in the same location. In the early winter, I moved it into my garage. It emerged this spring fully leafed out.
From compact shrub and patio roses to enormous ramblers, there are thousands of rose varieties to choose from. Many roses perform well in pots and containers, which means they can be grown in the smallest of spaces. When seeking a rose suitable for a container, start with roses with some of the the following characteristics:
* Low to the ground and spreading
* Relatively short

* Miniature
It's best not to grow rambling roses in pots. These are much more vigorous than other types of roses and would need a very large container to provide the root space needed to sustain their healthy growth. Whichever rose you settle on, most roses will respond well to deadheading and cutting back to control their size.
I should note that I have grown, and am in fact growing now, each of these roses.
'Little White Pet'

This is a very special rose. This is the re-blooming sport of a huge, once-blooming rose called 'Felicite et Perpetue', a 15 to 20-foot rambling rose:
It was introduced by Henderson in 1879.
The odd thing about 'Little White Pet' is that it is a tiny, constantly re-blooming sport of this enormous rose: it is only about two feet tall and two feet wide - perfect for a pot. It has all of the desirable features of the parent. It is often referred to as simply a shrub rose. It is roughly two feet by two feet. It has a strong disposition and is disease resistant. It does require full sun.
'Sea Foam'
This is a rose that maintains a small size on disease-resistant, shiny foliage. It can be used as a ground cover but also can be grown beautifully in a pot because it is only two to three feet tall. It is hardy in zones 4 to 9. Its beautiful double flowers (scentless, alas) come in succession. This rose can be grown in partial shade. It is sometimes described as a mannerly climber, but I find that it takes very well to be a somewhat restricted ground cover. It can grow much taller at the higher range of its temperature zones.
And, by the way, it is an Earth-Kind rose, which means it can handle many soil conditions (I grew it in a 7.9 pH zone which is highly alkaline) and now grow it in near-neutral soil. This is a characteristic of all Earth-Kind roses. They need little or no fertilizer and are naturally resistant to pests.
.
'Perle d'Or'
This is an outstandingly pretty rose that blooms all season into December in my zone 5 yard. Some providers state that it is zone 5 hardy, while others state 6. I put two in blue ceramic pots and they bloomed and bloomed and bloomed. It's not a rose that you see in my area and people stop and stare. Described as a polyantha or a small shrub, this very fragrant rose has apricot buds that morph to a more golden color. No less an authority than the owner of Roses Unlimited, the wonderful Pat Henry, stated to me that it is a rose she would not be without.
It grows 4 feet tall and 4 feet wide. It was introduced in 1884. The two in the cobalt blue ceramic containers in front of my home gets much oohing, aahing, and many requests for its name. And, as a plus, it is another Earth-Kind rose.
'Gruss an Aachen'
One rose I have grown in pots and in the ground is 'Gruss an Aachen'. Whether in a pot or the ground, it is bulletproof. It is 3 feet tall by 3 feet wide. It is often classed with floribunda but it is in fact sort of betwixt and between because it was hybridized in 1909 by Geduldig, and that was many years before the floribunda was categorized as such. It is such a good rose that David Austin actually included it as an English rose, which is, of course, absurd, but indicates how wonderful it is. There is also a climbing version. Too good to be without. I just ordered it, and as a bonus, it's shade tolerant. I am growing it in sun and shade, and I have 5 of them. It's that good.

'Marchesa Boccella' aka 'Jacques Cartier'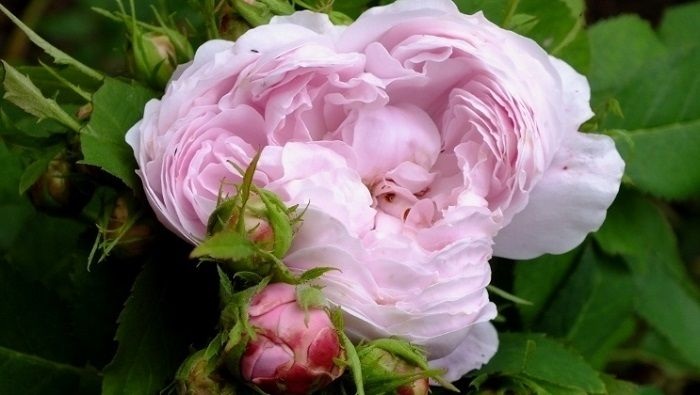 This classic Portland rose, hybridized by Jean Desprez in France in1842 is ideal for small gardens or for pots. It has petal-packed small flowers, and a very pleasing scent. It is very healthy. Its vase shape makes it easy to fit into either pot or garden. It blooms regularly, and in zone 5a is thoroughly hardy.
Which Portlands are best? There are several that are deservedly popular. They can both be used as specimen plants, in small groups, and as hedging roses, the latter because their growth is very uniform, and because they grow no more than five feet high, often topping out at three feet, they are perfect for containers.
'Marchesa' has delicate pink flowers that are flat and petal packed, with a delicious scent. The flowers sit in clusters above healthy, jade green leaves. The shrub is vase-shaped, which allows it to fit neatly into the garden. One of the many gifts this rose brings is complete resistance to "balling", a phenomenon where roses do not open in rain or high humidity. The flowers of this rose are formed such that rain runs right off them. In the south, according to the Antique Rose Emporium website, it blooms continuously. In my zone 5a garden in the north, it blooms reliably every six weeks.
'Comte de Chambord'
Introduced in 1858, this Portland rose is very much like 'Marchesa', except that some feel that it blooms a bit more. Healthy, scented and vase-shaped like the above, you really cannot go wrong with either rose.
'Marie Pavie'
'Marie Pavie' is a polyantha rose from 1888, in France, hybridized by Allegatiere that I have grown for many years. I have had it since 2010, and it is an almost perfect rose. It has very few thorns, gets no disease, has 1 and 1/2 inch blooms in clusters (so you can deadhead it with hedge trimmers) and is ever-blooming right into the month of December. And because of its size, it is easily grown in pots. It tops out at about 3 and a half feet, and grows very upright but never becomes bare at the bottom.
The light finally came on for me, since I have just ordered its sport 'Marie Daly', which originated in 1999. The difference is that it is pink. It is in fact designated an Earth-Kind rose, which means that 'Marie Pavie' is, as well. The Earth-Kind designation is given to roses that are disease resistant and grow well without the use of chemicals.
Polyantha roses, in general, are great choices for pots. I have written an article for Dave's which covers many of the best ones: if you like, please follow this link to the article.
These roses are generally quite small - under four feet. Many of them are thornless and scented. They are also generally disease-free and very low maintenance. They are the Knockout roses of their time in terms of care. They are the perfect roses for our times.
Steps for growing successful container roses
Making a choice of container: Quite a few experts advise, and I agree, that you should choose a pot that is at least 15 inches in diameter, and fairly deep, since roses send out quite deep roots (which you will discover if you attempt to dig one up after a few years in the ground.) Choose a relatively large, tall pot when growing a rose bush. Roses send down deep roots, so the taller the container, the better. The soil in pots heats up faster than garden soil, so clay pots are generally better than plastic since clay is slower to transfer heat from the sun into the soil. If you must use plastic pots, use lighter-colored plastic, which won't heat up as fast as dark plastic. Make sure the pots have ample drainage holes in the bottom. I personally love to use ceramic pots, but they can get quite pricey. Terracotta pots are always good, but they will require regular watering. Still, they are a handsome, practical and affordable choice. It is critical that the pot, of whatever type, have drainage holes. Just as a note, some advise putting pebbles at the base of containers, but I never do this, and some recent articles have stated that this is not beneficial. If you do not have a pot saucer, putting a coffee filter at the bottom will allow water to go through, but not soil which is good solution. Potting Soil: There are many opinions about this, so I will give guidance based upon useful things that I have read and done. You do not need rocket fuel for your potted roses. I use compost, often from my compost bins (if I run out I purchase a good blended compost) and mix it with organic potting soil. If you have these things, you can use some top soil to get enough mass. It's inexpensive, and will do no harm.You do not want soil with any nutrients added and you do not want only top soil, which tends to compact and usually isn't suitable for containers. Watering and fertilization: Water thoughtfully, checking for dryness, preferable before 10 in the morning in a warm climate, keeping water off the leaves to prevent disease. Fertilize with a balanced fertilizer a couple of times a month (I fertilize roses in the ground once a month), repot every few years, and if you are in a cold climate, protect them in winter, which I do by rolling them into the rear of garage, covering them with quilts, and giving each rose a cup of water once a month.Winter storage: Being in a pot, rather than the ground, causes some potential loss of hardiness. I combat this by putting my roses into the back of my garage, covering them with quilts from a thrift store, and giving them a few ounces of water once a month. They consistently leaf out beautifully in spring.Growing roses in pots will give you the ability to fit more roses into your yard, and to display them at their best.