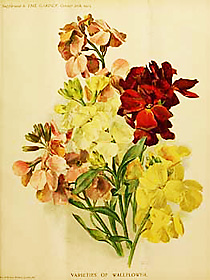 Although English wallflowers (Erysimum or Cheiranthus cheiri) aren't hardy in my zone 5, I inadvertently discovered a way to enjoy them here anyhow. In spring of 2015, I found a plant in Wal-Mart, which had lost its label and had been marked down after it quit blooming. I cut it back and set it out in a bed to see if it might resume flowering.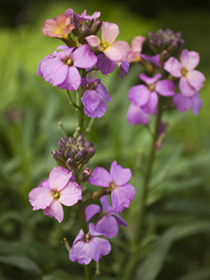 It didn't do so at that time. But, after recouping its strength over the summer, it began blooming again in October. Pictured to your right here, it continued to flower right up until Christmas day and beyond. However, it lost some of the peach-colored glow from the topmost petals and dimmed to a plain mauve shade in December. I'm guessing, in fact, that it may have been the 'Bowles Mauve' cultivar, which is known for its long bloom time.
Granted, the winter of 2015/2016 began in unusually mild fashion. If we'd experienced our usual temperatures, the plant probably wouldn't have survived as long. It still boasted plenty of buds when snow did it in, though, so it could have kept performing if the weather hadn't deteriorated.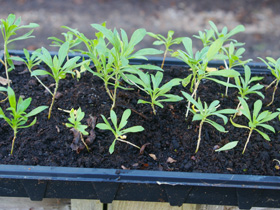 Its blooms weren't showy, probably why the term "wallflowers" often is used to refer to plain or introverted people. The fact that the plants belong to the cabbage family also may doom them in some minds to plebeian status. But their blooms have a sweet scent and a charm all their own, and any flowers that persist into early winter look beautiful to me! (Some sources describe the Bowles type as not having the usual wallflower fragrance, and I can't recall now whether mine did or not.)
This year I sowed Erysimum seeds in February, in hopes that I could induce them to bloom in autumn too. Granted, wallflowers are supposed to be biennials and flower their second year, but I have read that they can perform during their first if planted early enough. I barely covered those seeds with damp seed-sowing mix and kept them in a cool position, where they began sprouting in 6 to 9 days.
Those of you who live in USDA zones higher than 7 should be able to sow English wallflowers in the summer of one year to have them bloom the following spring. If provided with well-drained, alkaline soil, they can thrive in either full sun or partial shade and generally don't require fertilizer.
Gardeners in colder climates can sow English wallflowers indoors in late winter for outdoor bloom the following autumn, or they can try Siberian wallflower (Erysimum x marshallii or allioniii) instead. That species, though it generally only comes in yellow or orange shades, reportedly is hardy to zone 3. A few other wildflower types such as asperum and capitatum in yellow and linifolium in mauve also are supposed to be hardier than the English type.
So who says wallflowers are worthy only of the sidelines? Both the human and plant varieties can become stars of the show instead, if they valiantly carry on after more showy but less resilient flowers have worn themselves out.
---
Photos: The cropped and enhanced banner photo of Erysimum 'Orange Bedder' is by David Monniaux, courtesy of Wikimedia Commons and this license. The mauve wallflower image is my own and the Siberian wallflower image by AnniesAnnuals from the Dave's Garden PlantFiles. The cropped and enhanced seedlings photo is by Hec Tate, courtesy of Flickr Creative Commons and this license. The 1905 antique image is from The Garden, Volume 68, courtesy of plantillustrations.org.