No bride wants to have to walk down the aisle in 100-degree weather with a heavy $2,000 wedding dress on. I would be worried the whole time about sweating on it, which would stress me out and make me sweat more. You could get married inside but you still have to take pictures outside wearing 20 pounds of chiffon and lace. No thanks. Just get married in fall. It's the perfect weather because it is not too hot or too cold and the colorful leaves make for some amazing photo ops.
The Colors of Fall
Fall colors are stunning. From yellows to oranges and reds to browns, the rich hues of fall are perfect for wedding decorating. In fact, I think it would even make a great color palette for the wedding party attire. Why not have a groom wearing a burnt orange? Or wear a dress in light yellow silk? The flowers can be filled with the colors of fall as well with burgundy, pumpkin, copper, apricot, and brown. And the cake can be Autumn themed as well in colors like coral, sage, blush, and soft yellow. Navy and gold are also a good pair of fall colors to blend into the theme.
Pumpkin Spice and Apple Cider
If you like pumpkin spice, fall is the perfect excuse to have pumpkin spiced everything. The main meal can be turkey with stuffing and all the other sides. Just like a Thanksgiving dinner. You can even have some pumpkin pie on your spread. Why not? Apple cider is also a perfect choice for the drink menu. Take advantage of what is in season with sweet potatoes, squash, and pumpkin. Add some cranberry sauce, apple pie, and candied apples for dessert.
Fall Flowers Are Awesome Too
Many of the flowers in bloom during the fall are great for bouquets and decorating. Try some mums or marigolds in red, orange, and gold or some anemones to add some pizzazz. Dahlias in muted purples or reds make a great addition to your bouquet as well as some seasonal berries and acorns for a unique twist. Don't stop at the bouquet though. Decorate everything with Autumn colors. Mother Nature did most of the work for you by dropping all those vibrantly colored leaves you can scoop up and use.
Spread it Around
Take this opportunity to spread those vivid colors on the ground, in flower arrangements, in centerpieces, and anywhere else you want a bit of color. Get some sunflowers into the mix. If you cannot have your wedding in a field of sunflowers, do the next best thing and decorate with them. If you cannot find enough live ones, you can get some fabulous silk sunflowers at just about any garden or craft store.
Decorating the Aisles
Here is a good idea I found on Pinterest. But you will need a bunch of nicely leveled logs. Place a log upright at the end of each row of seats and put a vase of flowers on each one. You could use barrels or bales of hay as well. Also, if you cannot find enough nice clean fall leaves to toss on the ground, you can buy them at any garden or craft store too. Instead of having your guests throw rice or glitter at you, have them throw leaves. The fake ones would be best for this. You don't want a dirty dress before the reception.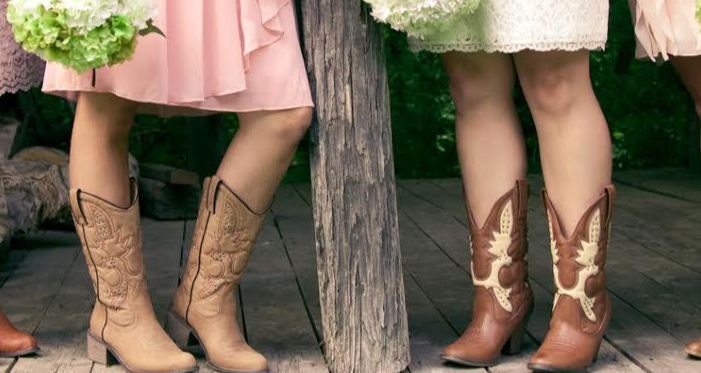 Other Ideas
This may be way out there, but how about wearing some cowboy boots and have the groomsmen wear flannel? Just a thought. The boots are a popular idea actually. My daughter, Tiffany wore cowboy boots under her wedding dress, and it was just perfect. I think the whole wedding party did. Or use cowboy boots and flannel as decorations. You can make a gorgeous bouquet of fall flowers in a cowboy boot that would be perfect.
Halloween Fun
Another cute idea that is inline with fall is Halloween candy. Why not toss some on every table in baskets or little barrels? And you have to have some pumpkins on the tables as well as along the aisle and anywhere else you can put them. They do not have to be orange if that clashes with your decor. You can get white pumpkins at the garden store too. Or paint them whatever color you want them to be. It is easy and cheap.
Keep Your Guests Warm
If you live in an area where it can get cold in the fall, how about providing a bunch of throw blankets for your guests. You can roll them up and put them in big barrels or hang them on the backs of chairs. Get colors that complement your theme or put your new monogram on each one. This can be costly if you have a lot of guests, but you can order them in bulk for a fair price.
Just Have Fun
Whatever you choose to do at your wedding, the main thing is to have fun. Do some fall festivities like bobbing for apples, playing cornhole, make a cornfield maze, and light up a big bonfire. Let the kids decorate candy apples and do face painting. Just have fun because you only get married once (hopefully)!