Late winter seems to go on forever
The days are gray, cold and dreary. Here in west Kentucky, we've been wet as well. Everything is soggy and even though we haven't had much more than a flurry or two, winter is definitely wearing out its welcome. Even non-gardeners are desperate for a sign of spring. Just when everything seems bleakest, the bright pink and coral blooms of the flowering quince burst open and we're assured of warmer weather. Just this last weekend, (which was ironically Groundhog Day) I noticed several already blooming and since the meteorological rodent predicted an early spring, that makes it even better.
The flowering quince was once a popular landscape shrub
Native to China and Tibet, Chaenomeles speciosa (which is also a relative of our domestic roses) is a dense, rounded shrub with a tangle of twiggy, thorny branches that could be a good example of natural barbed wire. In fact, the shrubs were used at one time as hedge-fences to keep cattle in. Sheep and goats just nibble their way through them though. Currently grown as an ornamental landscape shrub, the fruits were used in the past to make liqueurs, marmalade and various jams and preserves. However, these days the cheerful little blooms that awaken before just about anything else is the main reason for planting it. They are often seen in rural areas, marking the place of an old, abandoned homesite since they are quite hardy and long-lived. It is odd how an Asian native became such a standard planted around these homes, as most things had to be useful before they were tolerated. However the flowering quince was a popular pass-along plant of the time, producing many little suckers that were easy to move to other locations, so it isn't hard to understand how the shrubs moved from home to home with new brides and visitors.
Growing the flowering quince
The flowering quince is an easy shrub to grow and depending on which cultivar you purchase can grow from two feet tall to over ten feet tall. My grandmother had a huge one in the yard of her Victorian home that anchored one end of the driveway like a thorny watchman. She called it a japonica, as did many people from that era. It also bore fruit, but I do not remember anyone actually using them. It was always so spectacular in the spring because it was in full sun and had the benefit of deep, rich river soil that was almost black. However, these shrubs aren't really picky and are quite successful in less than perfect conditions, however slightly acidic soil is their favorite. There will be fewer blooms in partial shade, so take that into consideration when choosing a site to plant one. They are hardy in USDA zones 4 through 9, so most gardeners can have one if they wish. There are a number of varieties, some with pale pink blooms and others with bright orangy ones. There are also double blooms and various sizes, so there's most likely a flowering quince to fit your garden and your style. Just remember to only lightly prune your shrub if needed. The flowers bloom on old wood, so a heavy haircut will reduce the flower show the next spring. Shape your flowering quince by only taking one third of the oldest wood in a season if you must. With careful pruning, they can even be espaliered on a wall. If you need one for a small area, buy one of the dwarf selections. The species or older cultivars generally have more thorns, so situate them away from traffic areas, or get one of the newer varieties with smoother stems.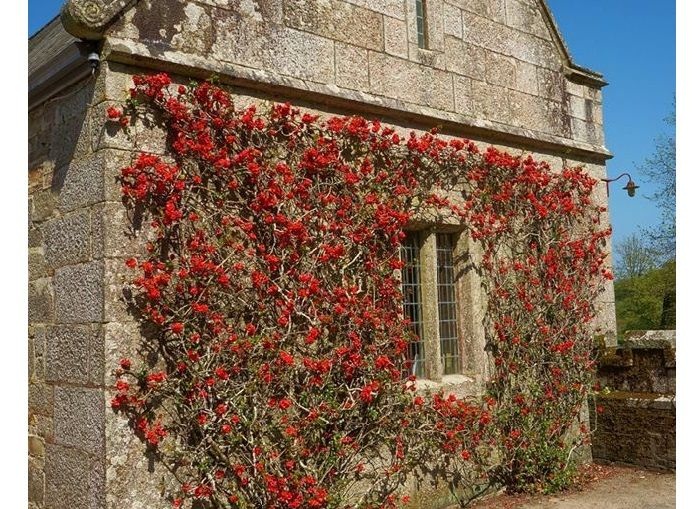 The flowering quince is good for pollinator gardens
This early-blooming shrub is also excellent in hummingbird and pollinator gardens. They are among the first flowers of the year and foraging honeybees that venture out in late winter are often seen collecting nectar and pollen. Here in west Kentucky, they are blooming now, along with the first dandelions. The henbit and dead nettle blooms are still a couple of weeks away, so the flowering quince is the earliest of the earlies. If you have an apiary, it wouldn't hurt to plant a few near the hives so that the bees can find them on warm winter days. The older varieties have a jumbled, disorganized appearance with the limbs growing in a number of directions, however they are your best bet for pollinators and wildlife. The newer cultivars have a more orderly appearance, however their pollen and nectar amounts may not be as good as the older selections. For those of you who really want a taste of spring with snow on the ground, the branches are easily forced to bloom indoors.
Resources for the flowering quince
The flowering quince is easy to grow and actually easy to find if you want one. We have several participating vendors offering a number of cultivars in our PlantScout program and the flowering quince is also an extremely popular item in our Plant and Seed Trading area with offers from literally around the world from people who have them for trade. A quick search found offers from several places in Canada, Finland, Greece, Great Britain and Croatia along with offers from all over the U.S. So if you have something that you would like to trade for one, we have a whole list of happy gardeners who would love to swap. If you want an early, easy-care shrub, you can't go wrong with a flowering quince.