A hellstrip is the most often located between the sidewalk and the street where conditions are least favorable, they are often waterless zones and hardpan areas with low nutrients. These areas may experience excessive abuse: dog poop, cigarette butts, traffic compaction and compacted soils.
With careful planning and successful location and plant selection, integrating your favorite design elements into these hellstrips can be an exciting and beautiful addition to your home and garden.
Flower Design for Curb Appeal
Working with design principles of unity, balance, color, repetition and focal points, create a blueprint prior to planting. Selecting plants for the season, textures, colors and heights is important when utilizing these design principles.
Unity of design is about color, texture and plant height placement in a balanced arrangement. Creating a balanced design is about using color and textural placement of plants in equal placements. Repeating a pattern of colors or textures unifies a garden also. Repeating plant placement also unifies patterns in the garden also.
For spring blooms, select plants in these categories: shrubs, annual, perennials and bulbs. Then select your focal points. Then remember to pay close attention to the height as this is important when you establish the plantings, based around a higher central focal point.
Hellstrip Species by Season
Selected species for focal points in dry, xeric, gardens include: Yucca, Santolina, Opuntia and a variety of penstemons which are all ideal plants with low water requirements. Shrubs also work for establishing focal points. Silver-colored shrubs offer heightened and contrast. These include: Artemisia spps. including Artemisia tridentata, Artemisia powis 'castle', and artemisia 'silver brocade'. Other silvery shrubs are Eurotia lanata, winter fat, and Santolina spps. Explore catalogs for exciting new varieties and cultivars once you have selected your heights, colors and textures.
Spring Bulbs for Visual Interest
Selection of shorter bulbs include: Crocus, iris pumila and Muscari. Crocuses come in a variety of color: yellow, oranges and purple, are fall planted and are delightful in the post snow season. Iris pumila is a short lived but elegant plant that offers textural variety. Muscari or grape hyacinth spread by self seeding and division, and bloom longer that the crocus and the iris.
With your perennial selection, select plants with height and color considerations. Favorite varieties include Allysum montanum, Dianthus spp, penstemons, Townsendia, Scutellaria, Anacyclus depressus, Mt. Atlas daisy and others. Check your native plant nurseries for other local favorites and xeric garden catalogs for dryland choices.
Here are five perennials which illustrate the range of textures and colors available. These include: Sideritis or mountain tea is grown in full sun and likes rocky soils. This is a fragrant addition to the garden. Another plant, the hyssop comes in a variety of colors and sizes. This two feet chartreuse, green shrub is an amazing insect pollinator. Watch out, as these can spread easily.
Veronicas are small, colorful shrubs with linear spikes of purple and blue flowers whose common name is Speedwell. This shrub is another good focal point because of its' dark purple flowers.
Mirabilis multiflora or Four O'clock with a purple flat based flower shape has a dramatic creeping habit which spreads fully under any shrub. It can grow up to two feet tall and spreads 8 feet wide. This is a favorite.
Another flower tribe, the Penstemon has one are the largest number of wildflowers in the United States. They range in a multitude of heights and color and are short lived. They bring abundant insect interaction and are perfect for hummingbird attraction.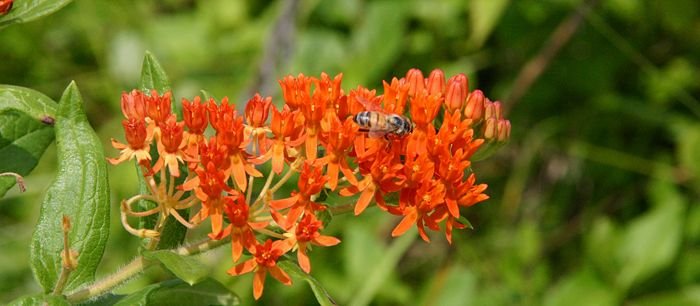 In your design, integrate summer season bloomers to your list. Sort the plants into the multitude of textures, design differences, color and adaptability. Work into the design an arrangement around the focal point with regards to the heights of the plants. As you draw plans, check your visual arrangement and how color balancing is working out. Consider plants with long blooming times as this is more appealing and saves money.
Perennial Summer
Perennials which have appeal for the summer season include these: butterfly weed, Asclepias tuberosa, Limonium and Hyssop.
Butterfly weed is a 10 inch tall orange milkweed which loves full sun, sandy soils and is an insect attractant including monarchs. Other milkweeds which thrive in open sunny areas include Asclepias speciosa, a tall stunning pink milkweed known for its connection to monarchs.
Limonium is commonly called sea lavender. This stunning purple and rose colored flower which dries well is an elegant selection for any dry landscape or hellstrip area. They grow well in sandy, well drained soils in open full sun areas.
Hyssop is a purple-flowered plant that may reach two feet tall, is an aromatic member of the mint family and is another option for use in your dry xeric hellstrip.
Though hellstrips get a bad rap, over the long term they create a satisfying addition to your yard, save water and lessen the hard impacts near your sidewalk.