I am a lucky person. The town where I live will not only allow you to choose from a list, a tree that can be planted on your parkway at no cost, but if you are so inclined, you can PLANT your parkway yourself!
A parkway is a wonderful blank canvas
The sidewalk in front of my house had been heaved by a tree 30 years before, but no one had formally asked the city to repair it. I had removed the grass to seed the parkway, but came home one day to find a group of city workers laying sod on it. Unexpected but nice. It was, however a space that cried out to be filled.
Here is a view of my new parkway after sod had been laid - a huge opportunity. A big blank space.
Plan your project by hardiness and size of plants
I should start by saying that I am in zone 5b. All of the plants here are at least zone 5a hardy. But there are numerous cultivars of these plants that are hardy in other zones, both warmer and colder. And of course, you should use your favorite plants. What I am attempting to communicate is the overall concept, which is actually more important than the individual plants.
I began with my largest plants. One of the nice things about all that blank space was that I could start with a statement piece: David Austin rose 'Constance Spry', which is zone 4 hardy, a once blooming rose, but healthy and pretty in leaf, and statement making with a mature size of well over 8 feet tall and at least six feet wide. I plunked it pretty much in the middle of the parkway. That's a good place to start if you are uncertain of what final effect you desire. Just put your largest proposed plant in the middle and work around it.
Why not a tree, you may wonder? I would have liked to have planted a tree, but I have noticed that when you have trees on your parkway, other residents' guests tend to park under them, especially if temperatures in summer are high. This is the situation in other parts of my block, and I really prefer not to look at cars. Constance Spry grows tall enough to block views, but it will not give shade to parkers.
You can get the same effect by planting any shrub that you like that is wider than tall. A doublefile viburnum is another possibility.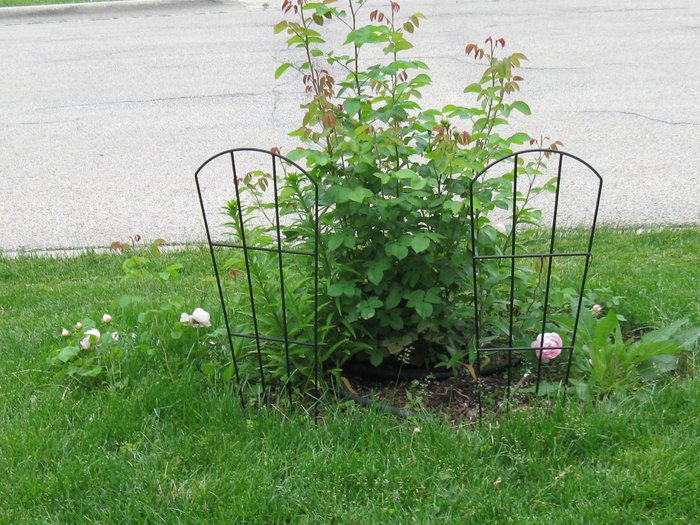 Roses are a great choice
I then put in another large, but non-recurrent rose, damask rose 'Madame Hardy'. These happen to be some of my favorite roses, but the choices are essentially endless. Just ascertain the mature width of each plant so that the spacing is appropriate.
One of the things about these two roses is that they are shapely plants that are disease free and don't require winter protection in my zone.
I surrounded both roses with reblooming perennials. It has the effect of keeping the color going while keeping maintenance to a minimum
In the middle of the parkway I planted three 'Morden Blush', a hardy Canadian rose that is zone 3 hardy, and reblooms repeatedly throughout the season. I accompanied it with salvia 'May Night' and salvia 'New Sensation Rose'. These two perennials bloom all season, and provide a mass of recurrent color in the middle of the parkway. All you have to do is cut them back, because they require no fertilizer. I echoed the effect by installing 'Prairie Snowdrift' in the front yard, which is the white sport of 'Morden Blush'.
Other plants like Geranium striatum can be placed at the base of the roses making a soft and fluffy picture (and is tough as nails!!) This is at the feet of 'Kathleen Harrop', the bourbon rose featured below.
Another tough but gorgeous addition to the parkway is Geranium cantabrigiense 'Biokovo'. It looks delicate, but it stands up to abuse, tolerates full sun or part shade, and requires from me, no maintenance.
At the other end I planted Kathleen Harrop, a large recurrent Bourbon rose (and sport of Zephirine Drouhin, the famous climber, but in a softer color). I must give credit for this to Pat Henry of Roses Unlimited. She was out of stock of Zeph, as I like to call her, and suggested the substitution. Later I added Zephirine, but I must confess that I prefer Pat's substitution!
One note about these two roses. They are almost always listed in catalogs as being hardy to zone 6, but I first grew Zeph in zone 5a at the suggestion of a rosarian in St. Louis. Yes, I generally have to cut the rose down to two feet, but it jumps out of the ground. And my Zeph was in an unprotected location on the north side of my house (albeit in full sun). Words from the wise and to the wise - the experience of an expert can be as worthwhile as that of the writers of a catalog, or even experienced growers of a plant.
Decorative grasses are a good space filler
I thought that a large, ornamental grass would be a nice touch, in order to anchor the site. So I chose a grass I had grown before, Miscanthus giganteous, a zone 4 hardy Chinese grass. I knew it would make a big old statement, even without its two foot blooms.
This is the plant three years later. Having grown it before, I knew that it would mature quickly, bloom well, and only require cutting back in spring.
You can also put in smaller grasses for their blooming effects. Here are the lovely flowers of Miscanthus 'Morning Light' which blooms in October.
Add peonies, lilies and salvias for a layered effect
Among the roses, pop in peonies. Here is a young Mrs. Franklin Delano Roosevelt, aka Mrs. FDR, with nepeta and the salvia above.
And then pop in a lily or two. This is Crystal Blanca with the white rose 'Madame Hardy'. It is a shorter, stronger Casa Blanca. You can use any color you like, but a strong stem is very helpful. Although Asiatic lilies are known for their strong stems, the scent of this oriental lily adds a wonderful touch.
And there is enjoyment for you too! Here is the view from my front steps.
There are many options when you are trying to create color and scent on a parkway. I hope that you find this article useful in your own search for color and beauty (and less mowing!!!!!)