It's possible to counteract the winter blues. Medical studies suggest that filling your home with houseplants can boost your mood by making living spaces feel cleaner, brighter and healthier.
Winter weather can certainly precipitate symptoms of cabin fever, the doldrums, the winter blues. Gardeners know that plants can help relieve those feelings. Who doesn't enjoy seeing colorful blooms during the gray days of winter? Scientists agree that houseplants likely improve mood by reducing stress, increasing pain tolerance, and lessening physical discomfort. Why? Possibly because plants simply make a room more lively and appealing. Indoor contact with nature can provide the same natural relaxation we experience outdoors. This phenomenon is called biophilia, a love of nature, and architects have designed buildings around the concept.
Caring for houseplants has been proven to be good for you. Research shows that taking care of plants can increase your sense of well-being and reduce stress. Houseplants provide a feeling of connectedness to the outdoors. Plants increase the awareness that we share the earth with more than just other humans. Everything in nature plays a role in our survival. Having plants in the home can serve as a constant reminder of our connections with the rest of the natural world.
Winter frequently means tightly closed windows and poor air circulation. Plants convert the carbon dioxide we exhale back into the oxygen we breathe. According to NASA scientists, certain plants can filter indoor air of pollutants like formaldehyde and benzene. People may develop headaches, asthma, or other chronic health issues from inhaling these volatile organic compounds (VOCs) that off-gas from furniture, flooring, and cleaning products.
There's a wide selection of colorful indoor plants and many are easy to grow. Anthuriums have striking blooms and are easy care. They do need a fair amount of light but will bloom consistently, especially during the months of February and March. The flowers are large and colorful with red, pink, and white being the most common colors.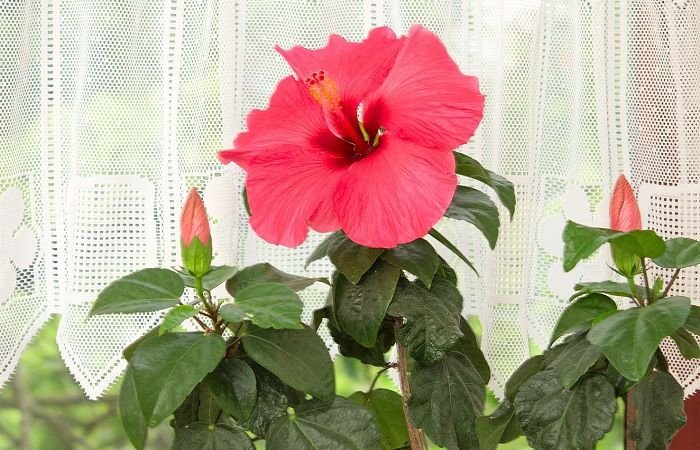 Ferns like the Kimberly Queen and Boston need watering more frequently, but they also put a lot of humidity back into the air making indoor spaces feel more comfortable. Kimberlys are a little more forgiving of neglect than other species of ferns. If you forget to water for a couple of days, they usually won't die. Other plants to help fight stale indoor air include palms, ivy, spider plant, weeping fig, dracaena, and peace lily.
Several studies have demonstrated the positive effects of potted plants in offices, schools and hospitals. Specifically, they've been proven to lower systolic blood pressure, improve reaction times, increase attentiveness, improve attendance, create a feeling of well-being, improve perceptions of a space, lower anxiety during recovery from surgery, and increase job satisfaction.
The ability of plants to make us feel good appears instinctive. We surround ourselves with plants during weddings and other celebrations as well as in sorrowful times like funerals. We set aside green spaces for parks and community gardens. Numerous studies have shown that people who grow houseplants are more satisfied with life than those who don't. Plants cause the brain to produce more serotonin which boosts mood. Houseplants improve concentration, memory, reaction time, and creativity. Experimental studies have shown that cognitive performance improves in offices with plants and that merely seeing the plants boosts creativity.
Research has also shown that houseplants are very efficient air purifiers, converting carbon dioxide to oxygen. They pull toxic chemicals like benzene and formaldehyde from the air. While studying plants for use on future space stations, NASA found that they help cut airborne bacteria by 50% and mold spores by 60%. A Virginia Tech study credits houseplants with reducing indoor dust by 20%.
Houseplants can reduce anxiety and speed healing. Studies show that patients recover from surgery more quickly when their hospital rooms contain plants and flowers. These patients had lower blood pressure, lower pain assessments, less anxiety, and less fatigue than patients without plants in the room.
Taking time out of the day to care for a houseplant gives our brain a much needed break from the constant stimuli of the electronic age. One research study demonstrated that tending to a pot of geraniums helped people recover from high-stress situations faster and more completely. If you find yourself chronically stressed, consider adding houseplants to your environment.
Good sleep is crucial for both physical and psychological health and there are several reasons houseplants may improve sleep quality. The presence of plants in a room can cause us to relax. Some plants have special abilities to provide better sleep. A Sanseveria continues to release oxygen into a room during the night which most plants do not. An airborne antifungal and antibacterial compound called phytoncides is emitted by plants, and we benefit directly from this compound when we are near a plant. Close proximity to plants gives us constant exposure to Mother Nature's medicine cabinet.
This is my dining room table. Sometimes I can actually eat there.
(Credits: https://www.psychologytoday.com/blog/urban-mindfulness/200903/plants-make-you-feel-better; http://www.midwestliving.com/garden/flowers/10-top-flowering-houseplants/; https://www.houselogic.com/by-room/yard-patio/plants-for-depression/; photos top to bottom: [email protected]; [email protected]; Светлана Чуйкова[email protected]; [email protected]; Kimberly fern frond from PlantFiles; [email protected]; [email protected]; [email protected]; [email protected])