If friends or family members help weed your garden, you may find it difficult to grow purple berkheya (Berkheya purpurea). The plant looks very much like a thistle and is, in fact, sometimes called African thistle. So it could get yanked before it ever gets around to blooming.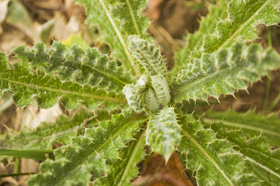 Despite the appearance of its foliage, berkheya's 3- to 4-inch flowers don't bring to mind thistle blooms. Rather, they somewhat resemble pale mauve or occasionally white sunflowers with purple florets at the center, explaining one of the plant's other common names—purple sunflower.
When I sowed its seeds indoors in mid-March, I assumed that the South African native would have to be grown as a late-blooming annual here in Pennsylvania. After looking more closely into its attributes, I discovered the plant is hardy at least as far north as USDA zone 6, with a few Zone 5 gardeners reporting that it has survived winters where they live too.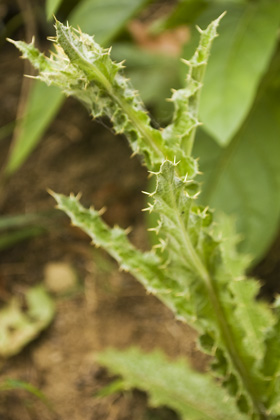 Under those conditions, some people note that the plant stays evergreen for them, while others find that it disappears over winter and they don't see it again until almost the beginning of summer. So its vanishing doesn't necessarily mean that it is defunct.
After making a clump of thorny foliage, each berkheya sends up a single flowering stem which can grow to three feet. Because we had a somewhat dry summer, my plants are just now beginning to show those stalks and haven't flowered yet. (Yes, I really need to time these articles better!) From what I've heard, berkheya generally makes a more impressive show in its second year anyway.
The 3- to 4-inch flowers appear on the top third of each stem—on side branches so that there are multiple blooms per stem. (According to Plantz Africa, up to 15 at once.) The plants like a position in full sun and well-drained soil and you may need to stake the stalks, since they can become top-heavy with all those blooms.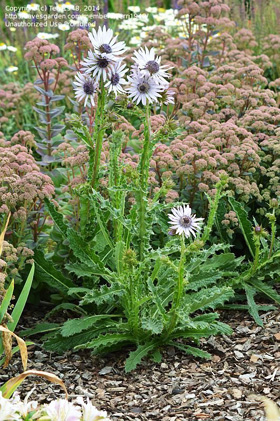 If you want to try sowing berkheya seeds yourself next spring, barely cover them with the seed sowing mix and keep them a bit cool—between 65 and 70 degrees Fahrenheit. Mine popped up in about 8 days, but they can take up to three weeks to make an appearance.
I'm guessing that purple berkheya became a garden ornamental due to the fact that it is the only mauve species in the genus and one of the most hardy. There are a large variety of yellow berkheyas as well, along with a few white types.
Some of them also make showy enough blooms to be candidates for the garden. Their seeds can be more difficult to locate, but I found an African company which offers at least a dozen species. Of those, the yellow-flowered Berkheya multijuga appears to be the only one which is as hardy as purpurea.
Finally, those of you garden close to the sidewalk—and to plant pilferers—can rest assured that nobody is likely to snatch African thistles. Such a thief might end up literally red-handed!
---
Photos: The bud and stem photos are my own. The banner image is by Todd Boland and the flowers image by Terri1948, both from the Dave's Garden PlantFiles.