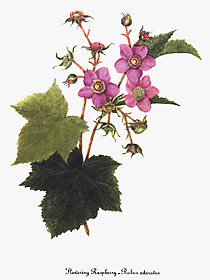 I purchased seeds of flowering raspberry (Rubus odoratus) in autumn of 2015. I'd been intrigued by reports that the thornless perennial bushes would grow to 6 feet tall and bloom all summer, in either sun or partial shade, with 2-inch fragrant rose-colored flowers.
Though some gardeners like the flavor of the 3/4-inch red fruits, others describe it as not being up to the standard of regular raspberries. But these plants, hardy in USDA zone 3 through 8, generally are grown for their beauty rather than their berries anyway, and boast maple-like leaves up to 10 inches across.
The seeds require winter treatment, but that isn't difficult to provide. I simply pressed them into the surface of damp seed-starting mix and placed the container in which they were planted inside a lidded, transparent ice cream box. Then I slid that box under a table on our front porch.
Planted in late December, the seeds began to sprout about 73 days later in mid-March of 2016, after which I brought them indoors and set them under grow-lights in our cool basement. They came up so heavily that I'm guessing almost all of the seeds germinated.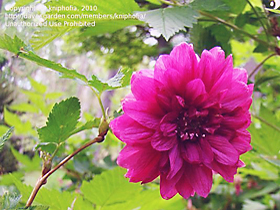 I wasn't so fortunate with the seeds of double-flowered salmonberry (Rubus spectabilis flore-plena), sometimes called 'Olympic Double', which I sowed in December of 2016. Only one of those sprouted, possibly because I accidentally let their container get too dry at one point. That seedling took about 130 days to emerge, much longer than flowering raspberry did, so I'm guessing the seeds may have germinated better if given three months of warm treatment first.
True to its name, R. flore-plena produces double magenta rose-like flowers up to 2 inches across on 6 to 8-foot bushes in USDA zones 5 or 6 through 8. It blooms only in spring, but also can tolerate partial shade, and its 3/4 inch berries—which appear from late spring through mid-summer--vary in color from yellow through orange and red. As with R. odoratus, their flavor reportedly is more mild than that of regular raspberries.
I also have my eye on the thorn-free ornamental bramble (Rubus 'Beneden') which flaunts white flowers, similar to single roses and up to 3 inches in diameter, during late spring and early summer. Supposedly hardy in USDA zones 5 through 9, it actually is a blackberry rather than a raspberry. But I'll sneak it in here, as it, too, is grown for its flowers rather than its fruits. Since the cultivar is described as sterile, I won't be able to find seeds for it and might have to steel myself to purchase a plant!
I set three of the Rubus odoratus seedlings in a semi-shaded place in my garden last spring, and they popped up again this spring with no problems, but haven't yet grown tall enough to bloom. Soon I should be able to decide for myself whether their fruits' flavor is "insipid" or just "subtle." And, if I don't like it, I'm sure that our always berry-conscious wild birds will!
---
Photos: The banner image of Rubus odoratus is by Kim_M and the Rubus spectabilis flore-plena image and Rubus 'Beneden' images both by kniphofia, all from the Dave's Garden PlantFiles. The public domain antique image is by Mary Vaux Walcott, courtesy of Wikimedia Commons.