Its astonishing abundance of small flowers are favored by butterflies and many other small pollinators. Vivid blooms retain their color even when dried.
Easily grown from seed, Gomphrena's profuse blooms come in a variety of solid and bi-colors. The violet, purple, pink, red, yellow, or white flowers are appealing when fresh as well as when dried for use in floral arrangements.
(Gomphrea globosa 'Buddy Purple' in my yard)
It's both annual and perennial
Gomphrena globosa, commonly called globe amaranth, is an annual species native to Central America, and now cultivated around the world. The 1-2 inch globe-like flowers can be used fresh or dried.
(photo mine)
Here's how to grow it
The plant requires little care and will thrive in almost any type of soil that drains well. It performs best within a pH range of 5.5 to 6.5. The plant is heat tolerant, but does not like to be over-watered. It can thrive in full sun or part-shade
Planting zones:
Upper South Zone 6, Mid-South Zone 7, Lower South Zone 8, Coastal South Zone 9, Tropical South Zones 10 and 11.
Cultivars
There are numerous cultivars of this species. Some have become quite popular in the horticultural trade. Due to its unique appearance and ability to bloom over the entire season, Gomphrena 'Fireworks' (Rio Grande globe amaranth) has become a favorite cultivar of gardeners.
The blooms are pink or purple petal-like structures called bracts. Tiny yellow flowers dot the tips. This plant retains its color after cutting and drying, making it the perfect choice for a cutting garden. Growing up to 4 feet tall, it's taller than the species. Tolerant of heat, drought, and humidity, blooming continues throughout the growing season until first frost.
(Gomphrena globosa 'Fireworks')
Traditional uses
Globe thistle is popular in folk medicine and has been used for a variety of conditions, including treatment for cough, bronchial asthma, acute and chronic bronchitis. It has also been used to treat high blood pressure, diabetes, and urinary retention. Gomphrena boosts the immune system, helps reduce cholesterol, and may be an anticancer agent.
Due to the plant's amazing ability to last for years when dried, it became a symbol of immortality and endless love.

Mixed gomphrena flowers are a wonderful addition to any garden. These are grown and packed right here in the USA.
It's edible
Globe amaranth is also edible. It can be prepared as a side dish, used as a potherb, and made into tea. Amaranth has a nutty flavor that has been described as somewhere between whole wheat and brown rice.
A staple in the Americas for 6,000 years, amaranth was originally collected as a wild food and later domesticated. The plant can be cooked; the seeds can be toasted and eaten whole or milled into flour. Other uses of amaranth include animal forage, textile dyeing, and ornamental purposes.
(toasting amaranth seeds in a traditional clay comal; Juanscott, CC-BY-SA 4.0, via Wikimedia Commons)
To cook, soak the amaranth at least 8 hours (up to 24). Add the soaked seed to a pot of boiling water, reduce heat, cover and simmer approximately 20 minutes or until all the liquid is absorbed.
To make cereal, bring 2&½ cups water and ½ teaspoon salt to a boil in a medium pot. Add the amaranth, reduce heat, cover, and simmer for 25 minutes. Or prepare in an Instant Pot using the "Rice/Grain" setting.

Why was it banned?
(Ilikefood, CC-BY-SA 4.0, via Wikimedia Commons)
In 1976, the United States Food and Drug Administration banned amaranth dye as a suspected carcinogen. Its use is still legal in some countries, notably the United Kingdom where it is most commonly used to give glacé cherries their distinctive color. It is not used in the commercial production of maraschino cherries in the U.S.
Orange gomphrena (Rio Grande globe amaranth)
Another of my favorites, this tender perennial variety is native to Texas, New Mexico, and northeastern Mexico. Usually treated as an annual, the bloom heads are tightly-clustered, bright orange bracts resembling small pine cones borne on 2' stems. Tiny yellow flowers peek out from the bracts. It is often sold as Gomphrena globosa haageana 'Aurea'.
(Gomphreana haageana 'Qis Orange')
Gomphrena celosioides (above)
Gomphrena martiana
Gomphrena nealleyi
Gomphrena nitida (pictured in main image)
Gomphrena viridis
Gomphrena haageana 'Strawberry Fields' (below)
To make tea
Globe amaranth makes an attractive tea. Place fresh flowers in a cup or teapot. Add water heated to at least 85° F. A squeeze of lemon juice will enhance the color and flavor.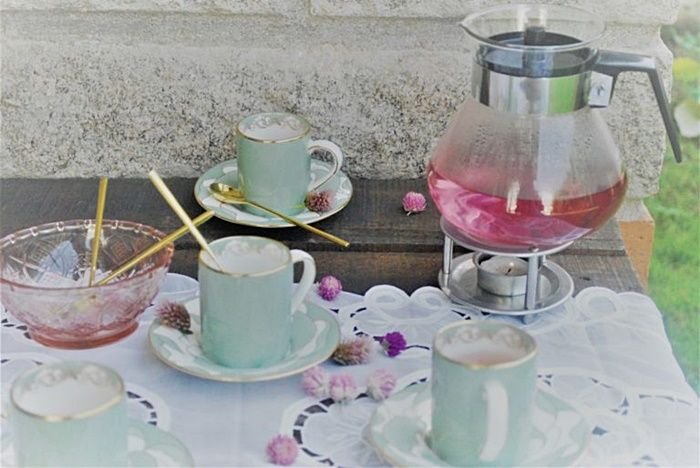 Last, but certainly not least, this flower has the ability to protect skin against wrinkles. Really? The antioxidants in it help eliminate free radicals, those little buggers that are responsible for aging your skin. Well, I think that calls for a nice cup of tea, don't you?

When you purchase through links on our site, we may earn commissions at no cost to you.