Pink and Blue Flowers in the Garden
Gardeners can have strong opinions about the color pink. It's a popular color but may not always make an impact in a landscape. And blue blooms are relatively rare. Of the estimated 250,000 to 400,000 flowering plants on earth, only 10% are blue. Check out these pink and blue bloomers that can definitely punch up the look of your autumn garden.
The color pink brings to mind little ballerinas in tutus, bubble gum, cotton candy, valentines, and other sweet things. In a home landscape, sweet probably isn't the look you're going for. However, pink is a color that can definitely enhance your garden.

Fall is a beautiful time of year. Summer is winding down, and the landscape is beginning to change colors. In the middle of summer, pink may be less noticeable in a garden because of the abundance of other colors. But during fall, pink hues can become a focal point to enhance your landscape's appearance.
Fall Blooming Pink Plants
Hardy Chrysanthemum 'Sheffield' (Chrysanthemum x rubellum)
USDA hardiness zones: 3-9
2-3 feet tall and wide
Needs full sun and well-drained soil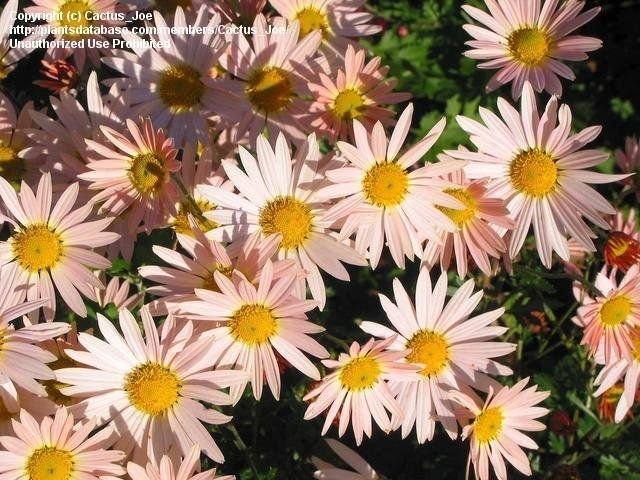 Beautyberry (
Callicarpa americana
'Welch's Pink')
Zones: 5-9
6 feet tall, 5 feet wide
Pink muhly grass (Muhlenbergia capillaris)
Zones: 6-10
3-4 feet tall and wide
Full sun, well-drained soil
Naked ladies/surprise lilies (Lycoris squamigera)
Zones: 6-11
18-24 inches tall and wide
Requires full sun to partial shade and fertile, well-drained soil. Morning sun and light afternoon shade will result in longer-lasting flowers. By the time it blooms, this bulb plant has no remaining leaves; the beautiful blooms sit atop long stems.
Coral bells (Heuchera 'Berry Smoothie')
Zones: 4-9
12-18 inches tall and wide
Partial shade and moist, well-drained soil
Pink blooming banana (Musa velutina)
Zones: 7-11
Size: Up to 5 feet tall and wide
Likes full sun and moist, fertile, well-drained soil
Wintercreeper (Euonymus bungeanus 'Pink Lady')
Zones: 4- 8
Size: Up to 20 feet tall and wide
Full sun, well-drained soil
Blue Fall Bloomers
The overwhelming choice of a favorite color by both men and women is blue. You might want to add some of these beautiful blue blooms to your fall garden.
Hydrangea macrophylla

Salvia "Black and Blue"
Passiflora
(Photo above is mine)
Clematis
Hibiscus syriacus (Rose of Sharon)
Having a Fall Gender Reveal?
Gender reveals should be happy occasions for celebrating. However, a woman in Iowa died during a gender reveal announcement after flying debris from a homemade explosive device struck her. Tragically, the El Dorado fire in California was started by a smoldering pyrotechnic from a gender reveal. At the time of this writing, it has burned more than 23,000 acres and killed one firefighter.

There are much safer ways to reveal a baby's gender without the use of fireworks that can possibly spark a fire or balloon releases that can harm or kill wildlife. Birds, turtles and other animals commonly mistake balloons for food. Additionally, many animals become entangled in balloon strings that can strangle them or injure their feet and hands.
Silly String Gender Reveal
Provide each guest with a can of silly string that has the color concealed and have them spray the expectant couple. Do this away from buildings and vehicles where it could possibly damage paint.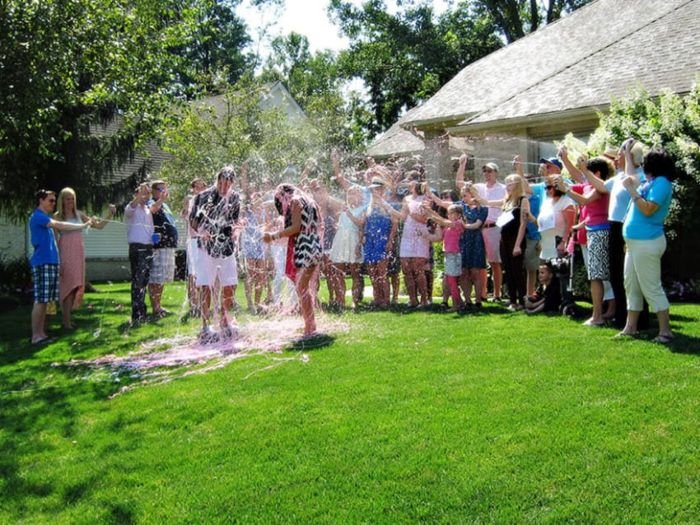 Carve Pumpkins
Before guests arrive, carve either "It's a Girl" or "It's a Boy" into the mother-to-be's pumpkin and hide it out of sight. After everyone finishes carving their own pumpkin, put a lit candle inside each one, and place all of the pumpkins together in the yard. Ask everyone to stand nearby with eyes closed. Snap photos of the expressions as they open their eyes. Have attendees pose for a picture with the pumpkins. Email it, along with an image of each person's reaction, to family and friends who were unable to attend the party.
Have a Scavenger Hunt
Place clues in envelopes, and send guests on a quest that will reveal the sex of the baby. This takes some advanced planning but can be a lot of fun for all ages as they watch everyone run around looking for clues that culminate in the big reveal.
Make a Gender Volcano
Use Play-Doh and food coloring to construct a volcano that spews pink or blue lava. There are five simple steps:
1. Mold the volcano out of Play-Doh.
2. Place a plastic bottle or cup inside the volcano and shape the dough around it.
3. Fill the container with warm water and add a few drops of pink or blue food coloring.
4. Add a few drops of dish detergent along with two tablespoons of baking soda. Mix the ingredients inside the bottle or cup.
5. Once you're ready to make the announcement, pour vinegar into the bottle. The colorful eruption will begin immediately.