Most roses die for the same reasons
Since roses have a reputation for being difficult, I originally picked those which were extolled for their hardiness and disease resistance rather than for their beauty. I've since concluded that I may have been too cautious. Although many of my bushes have come and gone, I've discovered that those which expire generally do so for the same reason that other perennials do—because they have been crowded or shaded out by more vigorous plants.
In other words, the fungus diseases and rose slugs for which the prickly plants are notorious may make them look shabby for a while, but don't generally kill them here in Pennsylvania. Granted, our increasingly soggy weather has begun to put paid to a few roses, but that generally is due to root rot rather than to black spot.
Shade from overgrown trees can affect the health of roses
Quite a while back, I lost many of my oldest bushes—which were ancient varieties such as gallica officinalis, mundi, and 'Tuscany Superb,' as well as being old for me--to shading from an apple tree which reverted back to the "transparent" species onto which it was grafted. We left it in place because the early fruits made good applesauce, but probably shouldn't have, since only the White Rose of York (Rosa alba semi-plena) still hangs on behind it in what now mostly is a tangle of wild raspberries.
Unfortunately, another of our apple trees is encroaching on one of the remaining rose beds, so that the pink 'American Beauty' and the 'Harison's Yellow' closest to it now appear to be defunct. (This 'American Beauty' is a hybrid perpetual, different in both color and form than the more famous rose of that name. And you can see the aforementioned apple tree lurking ominously behind 'Harison's Yellow' in the above photo.) I can recommend both of those roses, though, since they did persist for years in those less than ideal conditions.
Depending on your climate, roses may need winter protection
The rose which I probably have had the longest is a damask called 'Celsiana.' I purchased it from the Roseraie at Bayfields, which has been out of business for at least 15 years or so. I recall the catalog describing its blooms as "luminous" and "like crumpled silk" and it is one rose which has lived up to its advertising! Mine had become a huge bush before receiving a setback during one winter when the temperature dropped below zero more than once. Although that weather reduced the bush in size, it didn't succeed in killing it, since 'Celsiana' apparently is one tough dame despite her ethereal appearance.
Come to think of it, I may have had the non-heirloom 'Henry Kelsey' for nearly as long as 'Celsiana,' since both of them appear in old film photos I took before I bought a digital camera over ten years ago. I once grew the former on an arbor, but eventually detached it to make it a free-standing bush after I got tired of trying to keep the arbor upright. In both situations, the bush bloomed prolifically in June and continued to flower later in the summer, though not as heavily as during its first performance.
Although I have tried many of the David Austin roses, the only one that proved to be nearly as vigorous as heirloom roses was the lushly purplish 'William Shakespeare.' But it and several other bushes near it eventually got overrun by a thuggish false spirea I never should have planted.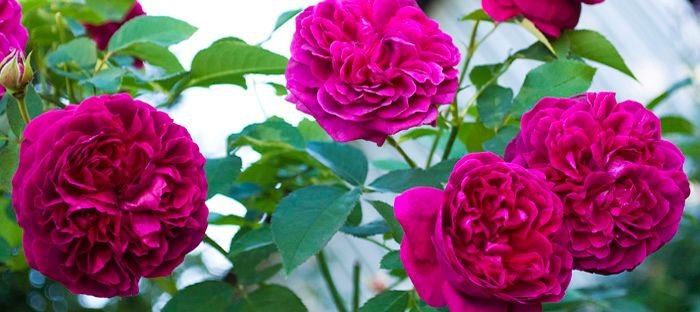 Even climate-sensitive roses can live for many years
Ironically, one of the roses which I've had for years is the one I have to protect the most. 'Zephirine Drouhin,' which appears in the banner image, actually will survive here if not covered during winter. However, "she" will die back almost to the ground and thus fail to bloom. In late autumn of every year, therefore, I have to bend that bush's canes down to lie flat along the ground and wrap them in burlap. On the positive side, those canes are thornless, so the process isn't as painful as you might imagine.
Location, location, location. The best thing you can do for your roses
However, it is somewhat painful to reflect that many of my longest-lasting rose bushes probably would have survived even longer if I had been more careful about where I placed them. But, just as the landscape of our lives changes over time, so--unavoidably--does our literal landscape. And it is to be hoped that we learn a few things about priorities and the perils of procrastination along the way!
---
Photos: All of the photos are my own.