Each plant in your garden is likely to have a different reaction to the incoming cold fronts. When the weather dips below freezing for the first time, you may see some of your least cold-hardy plants die off. You will also have plants that are "root hardy," in the sense that their roots will hold on much longer in cold weather than their leaves. Finally, there are some plants that will go so dormant during the cold season that they'll return strong and proud in the spring. However, as you find yourself in the in-between space, when hard frosts aren't happening yet but a few snow flurries are coming down, it's wise to know the difference between frost and snow when your garden is vulnerable.
Difference Between Frost and Snow in the Garden
While frost comes in many forms, but it typically adheres to plants and hurts them as soon as it gets onto stems and leaves. Frost is damaging because of how harsh and heavy it is Snow, on the other hand, is generally light and traps a large amount of air as it gently builds up on your garden. Because of this, snow can actually create a barrier between the cold air and the slightly-warmer ground just like the insulation in your household walls. The earliest snows in your season are only likely to protect your plants through insulation, rather than creating the kinds of leaf damage and stem breaking that a hard freeze will create via frost.
Some cold-hardy plants such as various brassicas, will survive just fine under a snow, provided the outside temperature isn't dropping quickly. Frost, however, is likely to damage your plants. Rather than being disappointed, focus on removing frost-damaged leaves and stems and giving the rest of the plant a chance to stay alive for the remaining part of the season. It may not seem like much, but doing that work buys you a few extra days which means you get that many more days to reach peak harvest on a veggie or two.
Snowed In = Not So Good
The more snow you get, though, the more danger you'll encounter. For one, the heavy snow can eventually break stems and snap leaves. At the same time, the more encased your plants are in snow, the more likely that the snow will stick around long enough to send a chill to the core of the plants. Once you've got more than a dusting, or snowfall greater than an inch or two, your most delicate plants will feel the effects. Use your best judgement when deciding to leave certain plants out or to bring them indoors. If your area has a pattern of snow becoming heavier and heavier as the season goes on, don't bet on many of your outdoor plants to survive if they're left exposed. That being said, your cold-hardy plants will simply go dormant, and after the winter's chills they will return!
Don't Confuse Frost and Snow
Paying attention to the weather forecast can be a good way to know whether your plants are likely to get a quick, fluffy dusting of snow, or a gripping frost that breaks down the cell walls in your plants. Make sure that you know how the soil temperature has been responding so far: a frost in the middle of winter when the ground is already frozen will have a very different effect than the first frost before the ground has had a problem.
No matter whether snow is there to keep your plants safe or frost is there to freeze up your leaves, there are some surefire moves that will help your garden to survive both of these chilly precipitates.
First, choosing your plants based on the hardiness zone of your area is your absolute best way to make sure you aren't losing garden plants that you hoped to have live longer. It's wise to know if you are on the outer edge of a hardiness zone too if you know that an early frost or snow will leave you heartbroken.
Second, for your favorite more temperate plants, choose beautiful containers in which to plant, rather than direct seeding into the ground or raised beds. This way, when the cold weather comes to call, you can transport your plants indoors to keep them from frost. Much of the first frost and snow of the season will happen overnight, and keeping your plants indoors overnight can extend their daytime outdoor life much longer.
Safety Move For All Garden Foes: Covering Your Plants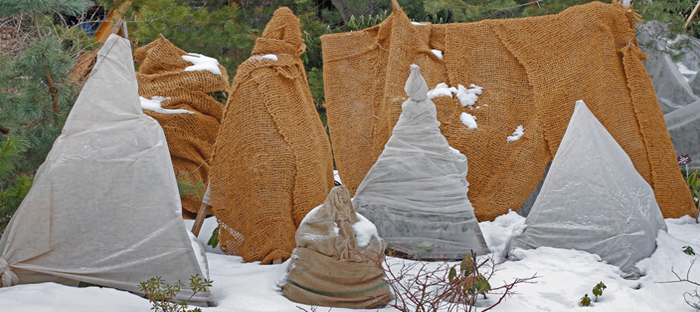 Whether a heavy snow or a deep frost, one of the best ways to protect your plants is to think about the kinds of covering you can place over the plants after dark and remove in the morning. Garden fabric, cardboard boxes, tarps, or clear plastic totes can all provide a little bit of safety by being the material that frost will adhere to; these same items can hold up the weight of a heavy snow off the plants. Specialized structures like cold frames or greenhouses are also viable options if you have the time to prepare or assemble one. They cannot stop every frost or snow from freezing your plants, but they can help during the transitional period where a little effort can save your plants for a few more days or weeks!