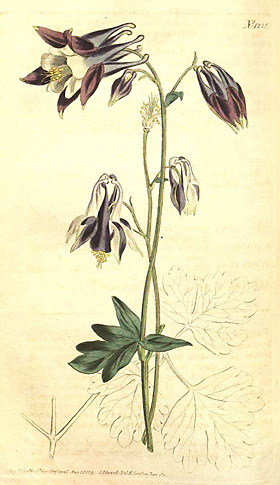 We all are familiar with the past crisis at Columbine High School, which happened 17 years ago in Colorado where the Rocky Mountain columbine is the state flower. However, the crisis for the plant itself only became apparent a couple years back when columbines in the south of England began collapsing at an alarming rate.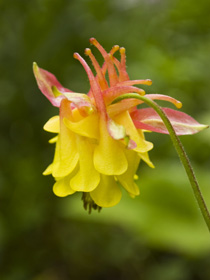 Their killer is more insidious than Harris and Klebold, but no less deadly. Carrie Thomas of Touchwood Plants in Wales, whose unique columbines had been named a National Collection, saw that collection decimated in 2014 and almost completely wiped out the following year. The culprit was a new and nasty strain of downy mildew which has been dubbed ADM (Aquilegia Downy Mildew).
My pleated "black" columbine in the photos here grew from Touchwood seed--leading me to unofficially name it 'Touchwood Tucks'--as did the frilly red and yellow one. Unfortunately, the latter stood too close to a garden path and another family member accidentally mowed it off before I got a chance to call it anything.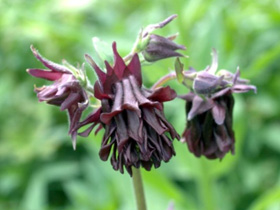 The black one lasted for years before dying out, and I'm hoping I still can resurrect it from old seeds. But all aquilegias possess a springy grace which makes them one of my favorite perennials. Fortunately, it's been a while since I purchased any columbine seed from overseas, and my remaining seven or eight types haven't yet suffered from anything more serious than leaf miners or late frosts.
Carrie has been doing her best to ensure that the losses she and other British gardeners have suffered won't spread to other countries. As part of that effort, she recommends that we Americans temporarily avoid purchasing columbine plants or seeds which have been imported.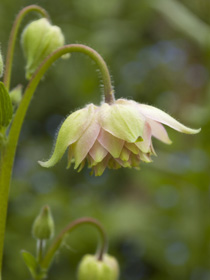 Because this disease is so new, she doesn't yet know whether or not it can be spread through the seeds. She thinks it possible that the more severe winters in much of the U. S. might prevent the mildew from getting a foothold here, but she can't say for sure.
So Carrie also asks that we keep a close watch on our plants next spring to make sure that they have remained free of the new disease. The symptoms for ADM are different than those for the more common powdery mildew. They include whitish-green foliage, overlong stems, and curling leaf edges as the plants emerge in spring. A bit later, you may see subtle yellow patches on leaves, downy growth on their undersides, and dark lesions on stems and seedpods.
You can find more complete descriptions and photos of those symptoms at the following page on the Touchwood Plants' site. If you spot them in any of your own columbines next spring, Carrie would like to hear from you.
Together, we can make sure this graceful flower continues to brighten many Mays to come. After all, with its poised for flight look, it now also stands for the young lives which flew away too soon. In a song called "Columbine," C. W. McCall once asked what could turn out to be an all too apt question. "Will you miss me when I've gone away?"
---
Photos: All of the photos in the article are my own. The antique image of Aquilegia viridiflora 'Pallas' by S. T. Edwards is from an 1809 edition of Curtis's Botanical Magazine, courtesy of plantillustrations.org.