Here the work of renowned quilters implementing creative new ideas and approaches to fiber art is on display. Located in the UNESCO Creative City of Paducah, Kentucky, it is the world's largest and most prestigious museum devoted to quilting and the fiber arts. Currently averaging over 40,000 visitors a year, the museum has been recognized by USA Today as one of the world's top quilt displays.
The Museum's Importance
By bringing quilting and fiber arts to new audiences around the world through exhibitions, educational programs and quilt preservation efforts, the museum promotes the growth and expansion of these art forms.
It is the world's foremost museum devoted to quilts and the only museum dedicated to modern quilts and quiltmakers. The main gallery features a rotating selection from the museum's collection of over 600 quilts. Its other two galleries exhibit rotating fiber art exhibits throughout the year. In addition to a commitment to exhibit world-class fiber art, the museum offers educational programs for adults and children of all skill levels.
In 2008, the U.S. Congress designated it The National Quilt Museum of the United States. There is no federal funding; however, the designation brings additional publicity that helps increase the number of visitors, currently averaging 40,000 a year.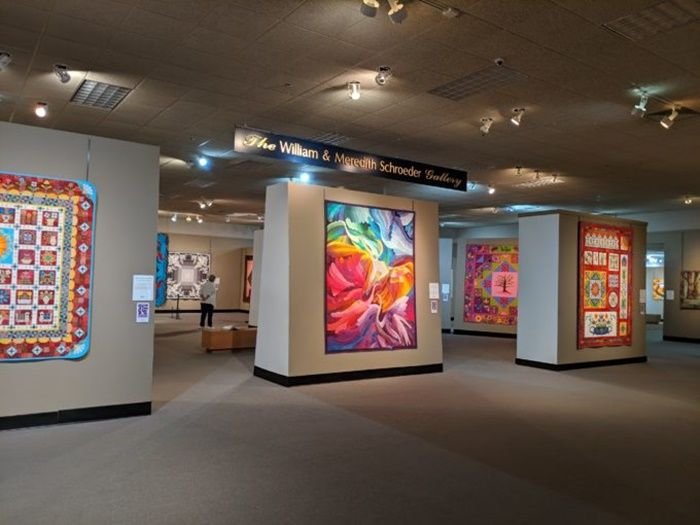 (Above: The William & Meredith Shroeder Gallery, National Quilt Museum photo)
(Above right: Corona II: Solar Eclipse by Caryl Bryer Fallert, Paducah, KY; hand-dyed fabrics; machine pieced and machine quilted; 1995 American Quilt Society Best of Show $15,000 Purchase Award; named one of the 100 Best American Quilts of the 20th Century)
(Above: Migration #2 by Carel Bryert Fallert; below: Forest Walk by Pat Durbin, Eureka, California; machine pieced, raw edge appliqued, machine quilted)
A Very Special Exhibit
In 2015, one of the museum's most moving exhibitions, To Honor and Comfort: Quilts of Valor, displayed quilts made for veterans, each with its own story. The quiltmakers included people who had lost loved ones in war as well as others who wanted to do something meaningful for veterans. The Curator of Collections noted it was the first time the museum had to place a box of tissues in one of its galleries.
In 2020, a Quilts of Valor Presentation Ceremony by the Quilts of Valor Foundation presented quilts to veterans and military service members who have been affected by war. To date, 240,000 quilts have been awarded by volunteers in all 50 states.
(Above photo: Kat Russell/The Paducah Sun via AP)
Making Yo-Yos And Preserving An Art Form
I've watched the older women in my family stitch yo-yo pieces with amazing speed and dexterity. I've done it myself although not necessarily with equal skill. Yo-yos are round, gathered fabric disks that originated in the early 1900s to make use of fabric scraps. Originally stitched into quilts and pillows, cotton yo-yos are popular in modern quilting as appliqués and for making garments and accessories.
For many years, the YoYos Quilting Group (below) demonstrated their skills in the lobby of the National Quilt Museum. Their quilt raffles raised in excess of $125,000 for various charities. They retired a few years ago but are still beloved by quilters around the world. Several Japanese magazines have highlighted the group which was also filmed by the Japanese version of HGTV.
Betty Ford-Smith's Pine Cone Quilts
Betty Ford-Smith began making Pine Cone quilts in 2004 under the apprenticeship of a 92-year-old African American woman known as Miss Sue (below, right). She was soon enamored with the design and began teaching others.
(Above and below: Betty Ford-Smith displaying her handiwork at The National Quilt Museum)
In the South, the design is also known as the Pine Burr, Target, Bullseye Block, or Cuckleburr and is the official state quilt block of Alabama. The Pine Cone Patchwork derives its name from the Longleaf pine cone. Looking at the bottom of a cone, the design is easy to see. This design is not exclusively African American but is often shown in books discussing African American quilting. The Lumbee Tribe of North Carolina wears the Pine Cone Patchwork insignia on their traditional regalia.
Quilting Bees
Quilters often stitch their designs into quilts during quilting bees in their communities. Since the Colonial Era, women have shared the work and enjoyment of quiltmaking. Quilting bees continued throughout the 20th Century. During the quilt revival at the end of the century, they became the precedent for the formation of quilt guilds and other small groups.
(Above: a Minnie Pearl quilting bee; below: homemade quilting frame)
(Above: 1906 "crazy quilt" made by my great-grandmother as a child in Bucksnort, KY)
Photos of machine quilting below are from the Dave's Garden Quilting Forum. Visit the forum here.
Appalachian Quilt Trail
As you drive along the rural highways in Tennessee or Kentucky, you can't miss the brightly-colored squares hanging on old barns and buildings. The geometric designs, sometimes patterned after a family heirloom, represent a single quilt block. They have names like Bear Paw, Pineapple Log Cabin, Sunburst, and Country Decision.
Found in pastures and fields along America's country roads, in town squares, and on Main Streets, there are hundreds of them between the Cumberland Plateau and the Great Smoky Mountains.
(Linda Crouch, owner of Tennessee Quilts in Jonesborough, with her barn quilt and the quilt that inspired it)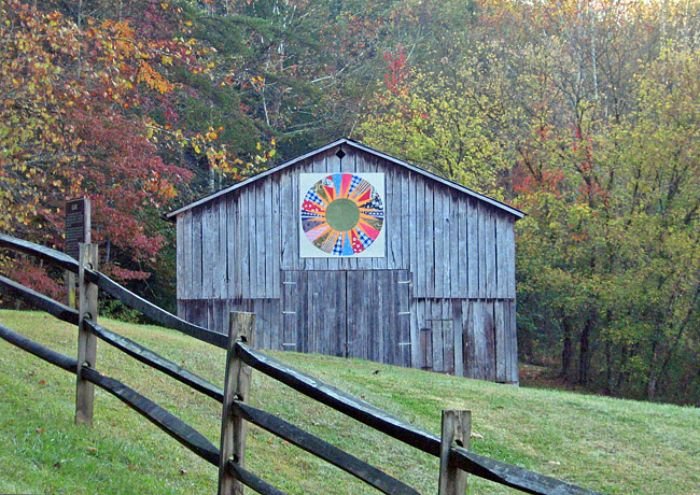 A New Tradition
On almost any country road in the heart of Appalachia, you won't travel far before spotting an old, weathered barn. The picturesque landscape is pure Americana. Relatively recently, a new tradition has taken root.
How It All Began
In 2001, a woman from a farming community in Adams County, Ohio, made a simple memorial that quickly became a modern Appalachian tradition.
In honor of her mother, noted quilter Donna Groves painted a square in a quilt pattern and hung it on the side of the family's barn. Other local farmers followed suit. As a result, Adams County, Ohio, soon had over 20 barn quilts on rural farm buildings. Calling this group, "a clothesline of quilts", local leaders used the opportunity to promote tourism to this region along the banks of the Ohio River.

(Above: Donna Sue Groves, originator of the barn quilt movement)
Uniquely American
The barn quilt tradition crossed the Ohio River into Kentucky and West Virginia and grew into a national phenomenon. In a short time, barn quilts took on a life of their own.
There are now official quilt trails in over half the United States. Since there is no national organization overseeing or regulating design specifications, as one website stated, "As for where your quilt block can be mounted–it's your property and your painting!".
Typically painted on a large wooden square, barn quilts are now being spotted many places besides farms and outbuildings. Individuals who don't own agricultural property are putting their own unique barn quilts on houses and businesses.
Originating on the outskirts of Appalachia, barn quilts have quickly become a uniquely American obsession.
(http://appalachianmagazine.com/2017/12/07/the-story-of-appalachias-quilt-barns/; https://quiltmuseum.org/about-us/history/; https://www.tnvacation.com/articles/tennessees-rural-roads-home-appalachian-quilt-trail; https://scenicusa.net/020108.html; http://artscouncil.ky.gov/KAC/Vibrant/QTrails.htm; http://hcohiobarnquilts.blogspot.com/2015/; D. Groves photo-http://hcohiobarnquilts.blogspot.com/2015/)