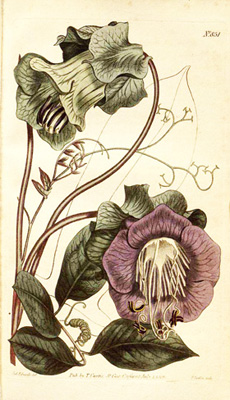 Native to Central and South America, Cobaea only is hardy in USDA zones 9 through 11, where it blooms from spring through autumn once established. Elsewhere, the obliging evergreen vine can climb 25 feet in its first growing season and flower by late summer, so those of us in cold climates may treat it as an annual. In the Victorian Language of Flowers, it stands for gossip, which probably travels at least as fast!
I grew Cobaeas way back in 2003 and 2004, Cobaea scandens in 2003 and the cultivar called 'Key Lime' in 2004, so long ago that the only photo I have is one scanned from a slide. Of the cultivar, I wrote--in a surprised sort of way in my notes--that it "did very well." Judging from the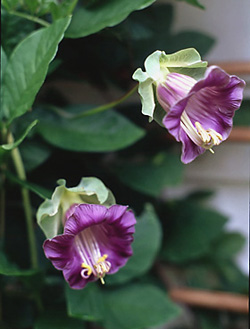 photo, C. scandens did too.
Also known as cathedral or monastery bells, Cobaea is named after Bernabé Cobo, a 16th century Jesuit priest from Spain who spent much of his life as a missionary in Central and South America and wrote a history of the Incas. He reportedly also penned a lengthy botanical work which, unfortunately, has never been found.
The flowers which bear his name would have made an interesting entry in that work, as they often are pollinated by bats. They therefore emit a somewhat musky fragrance in the evening, but that scent reportedly turns sweeter as the blooms age.
Cobaea vines, which climb via tendrils, grow best in a sunny or partially shaded position in rich, well-drained soil. In very hot climates, plant them where they'll be shaded during the afternoon. You can grow them in a sunny greenhouse or conservatory too, where they may bloom almost year-round.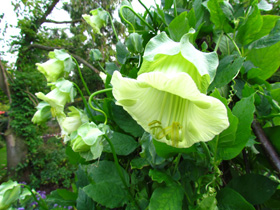 The vines begin to flower about five months after they were sown, so time your planting accordingly. In other words, start them in February if you want them in bloom by July, but don't move them outdoors until after your last spring frost.
An 1878 edition of Vick's Illustrated Monthly Magazine calls Cobaea's "funny" seeds "as flat as a shilling and about as large." Soak them overnight or for at least a couple hours before you plant them, standing upright in sterile seed-starting mix with their tips just beneath its surface. According to my notes, my seeds sprouted in 8 days. However, they can take up to a month to do so, and the vertical position will help keep them from rotting during that time period.
Be warned that this vine can reach at least 40 feet where it's hardy. You won't mind, however, as the shapes and colors of the flowers are endlessly fascinating. Their deepening purple brings to mind the lengthening shadows of late summer and the bells that call the faithful to evensong.
Photos: The thumbnail photo is by Annie Hayes, from the Dave's Garden PlantFiles. The purple-flowered cobaea photo is my own and the white-flowered cobaea photo by Chuck B., courtesy of Flickr Creative Commons and this license. The antique image is by S. T. Edwards from an 1805 edition of Curtis's Botanical Magazine, courtesy of plantillustrations.org.