Pumpkin planting has already begun, and harvesting is getting close so as soon as you find a good one or two or three, you can start carving. Or not. It is too early to start carving up that Jack-O-Lantern because it will not even last until October. If you want to paint, draw, or decorate your big orange gourd, you can start now, but it is too early for carving.
Painting
There are many different ways for you to paint a pumpkin. Of course, you can just paint some eyes and a mouth on there and be done with it, but don't you want to be different? Unique? Of course, you do. Halloween doesn't always have to be orange and black either. You can paint your pumpkins in different pastel colors to match whatever your outside décor is. You can use spray paint or a paintbrush to do this but either way you do it, make sure it is clean and dry first and put it on top of newspaper to protect whatever surface you are working on. You can also paint your pumpkin black and use white paint to drizzle a pattern on it that looks like a spider web. How about a minion? Paint your pumpkin yellow and add some blue overalls and white eyeballs. It doesn't have to be perfect; everyone knows what a minion is. If you are not very artistic, paint your pumpkin whatever color you like and just splatter different colors of paint onto it in a splatter design. This is easy and fast, and you do not have to have a steady hand. Turn your pumpkin sideways and paint it like a watermelon. Or paint it red with white specks to look like a strawberry. If your pumpkin is long and thin, you can turn it into a piece of candy corn. Just paint the bottom yellow and the top white, leaving the middle orange. Perfect!
Drawing
With the array of colors that Sharpie has now, decorating anything is a breeze. I bought that big pack of magic markers on Black Friday and have used them for all kinds of stuff, including fixing a spot on my wall and a couple of spots on my wood floors. If you are good at drawing and have a steady hand, you can just get some markers and start drawing whatever you like. Make a cat face and stick some black straws or sticks on the sides as whiskers. Turn your pumpkin into a baseball by painting it white and using red and black markers to draw stitching on it. Draw anything you want, a face, a landscape, your portrait, whatever you can think of. If you are not as artistic as others, you can use a stencil to draw amazing pictures or graphics on any pumpkin, no matter what the shape. Just find a stencil at the craft or stationary section of your local department store, tape it on the pumpkin, and scribble it in with markers. Take off the stencil, and it looks like an expert did it.
Stickers
Grab some stickers from the store and stick them all over your pumpkins as a decoration. No creativity needed. Just stick whatever you want on there. If you have the time and inclination, get some alphabet stickers and write something fun on your pumpkins. Or use some small colorful oblong stickers to make yourself a sprinkled donut pumpkin. You can even go so far as to paint the top of it to look like frosting, but you do not have to do that. Don't stop at stickers though; you can use temporary tattoos to make an elaborate design on any pumpkin. Or grab a hot glue gun and stick other things to your pumpkin to make it a 3-D decoration. You can make little bats with black ribbon and glue them on there. Or glue some pompoms on there to make a polka dotted pumpkin. Glue gems or glitter to your pumpkin to make it look like a jewel. Use googly eyes and other items to make your pumpkin look like a Mr. or Mrs. Potato Head. Grab a bag of mini spiders and glue them all over your pumpkin like a spider's nest. Pull out your artistic side or Google it. The ideas are endless.
Carving
The awesome thing about using any of the above ideas is that you can still carve your pumpkin like regular when it gets closer to Halloween. You can start carving about two weeks before the holiday for best results. Choose a good-sized gourd but not too big and try to get it as smooth as possible for best results. Cut the lid out with a sharp knife or small saw on an angle. Scoop out all of the goopy stuff. You can let your kids or grandkids do this part because they love it and you probably don't. Now, use a stencil or go freehand to draw the eyes, nose, and mouth where you want them. Then use a small saw or sharp knife to cut out the pieces. Simple. Done. There are some other ways to do it that are even cooler. Grab some cookie cutters and a mallet. Yep. Make sure they are sharp and sturdy enough to go through the pumpkin. Use the mallet to push in the cookie cutter and voila! You have a decorated pumpkin. Use a bunch of different kinds to make a variety of animals or other decorations around the whole pumpkin, not just on one side. There are also many kinds of stencil kits you can get at Walmart or any other store at this time of year. Just tape the stencil to the pumpkin and use a tack or other sharp pointy object to outline the design. Take off the stencil and connect the dots!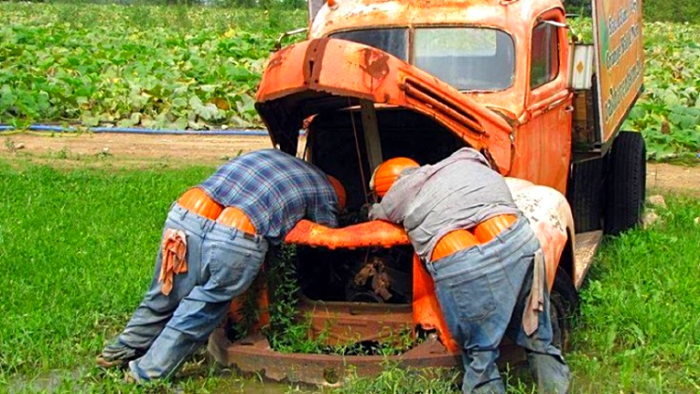 Miscellaneous
One final tip. Sprinkle some cinnamon inside the lid, and your jack-o-lantern will smell like pumpkin pie when you light it. Amazing, right? And put petroleum jelly on the carved spots to keep them fresh longer. There are so many ideas I cannot write them all here. I suggest you Google it and find something that grabs your interest and try it. Get several pumpkins and keep trying until you get it right. If you were smart, you planted your own and did not have to go buy any. If not, make sure you get those seeds and remember to plant them next year.