This colorful plant can pack a real punch, with intensely colored blooms and attractive variegated foliage. Between the shade varieties and the partial-sun varieties, impatiens have become so popular that they have replaced petunias as the most popular bedding plant!
As their name would indicate, New Guinea impatiens are native to the island of New Guinea, located north of Australia. New Guinea impatiens form compact, succulent plants with fleshy stems, and can reach heights of 1 to 2 feet tall by summer's end. Leaves are long and narrow, with distinctive points and serrated edges. Leaves may be green, bronze, or purple. Some newer varieties have stunningly variegated foliage that rivals the blooms in color! Flowers, growing up to 2 inches in diameter, are available in a range of colors, including white, pink, lavender, purple, orange, and red. I recently saw a variety on a garden walk in Bloomington, Illinois, that knocked my socks off! The label read "Painted Paradise Orange," and the foliage faded from dark green at the edges to creamy ivory in the center, with tinges of pink along the edges, and bright red veins. They are featured in the banner image at the top of this article.
New Guinea impatiens (Impatiens x hawkeri) are distinctly different from the familiar bedding plant, elfin impatiens (Impatiens walleriana). In the picture of Impatiens walleriana below, notice the smaller, rounded leaves, compared to the longer, narrower leaves of the New Guinea impatiens in the other pictures. I have frequently grown whole flats of elfin impatiens from seed for my shadier areas. I even discovered that if I accidentally broke off the top of a plant, I had only to stick the stem in the ground, and it would root and form a new plant without any further interference on my part!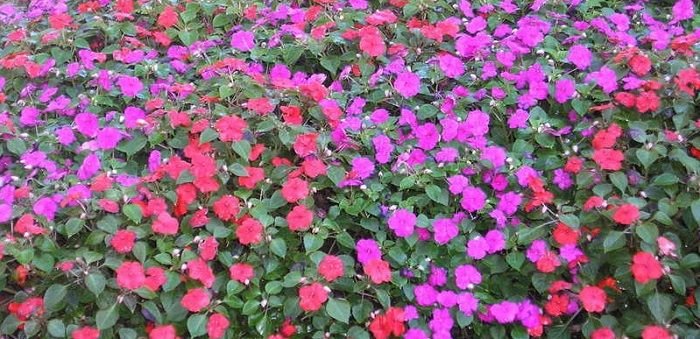 When I tried to locate seed for New Guinea impatiens, however, I came up empty. I learned that they are extremely difficult to grow from seed, with only a couple of varieties commercially available for seed. The recent F1 hybrid, Tango, is one of the only varieties of New Guinea impatiens seed readily available to the home gardener. Instead, the New Guinea impatiens available through your local nurseries and garden centers are propagated by rooting vegetative cuttings.
If you find them as bedding plants at your local nursery, you'll find that the difference in propagation methods is reflected in the price. Elfin impatiens can often be purchased quite cheaply, while New Guinea impatiens are more often sold as single plants, for a much higher price. I felt very lucky earlier this summer when I found a huge batch of healthy, well-cared for New Guinea impatiens that were originally $5 a plant, marked down to 50 cents each.
One key difference between the two varieties is the level of sunlight they can tolerate. Elfin impatiens require a good amount of shade, and provide vivid colors that stand out among paler counterparts in the shady garden. New Guinea impatiens, however, can take up to half a day of sunlight, and actually provide more color in both their blooms and their foliage if they receive at least partial sun. They tend to do better in less intense morning sun, and benefit from a little shade in the afternoon when the sun is most punishing.
You will find that New Guinea impatiens also require frequent waterings. These blooms are not for you if you are into xeriscaping, or specialize in drought-tolerant gardens. While they do need to dry out between waterings, they will wilt quickly if allowed to completely dry out. I've seen New Guinea impatiens that looked half-dead and droopy, yet perked up almost immediately and recovered fully once watered well. If you plant them in containers, they will do well in pots with self-watering reservoirs. If in a traditional pot, water them thoroughly, until the water streams from the drain holes in the bottom. They do not, however, do well in standing water, so be sure they DO have drain holes!
If you do grow your New Guinea impatiens in pots, you are at a distinct advantage, because you can bring them inside before the first frost and extend their lifespan as a house plant. Both New Guinea and elfin impatiens are very susceptible to frost, and will wither away the first cold night of autumn. If you bring them inside, you will need to pinch them back more frequently to keep them from getting leggy. You can also expect less prolific flowering in these low light conditions than when they enjoyed a few hours of bright sunlight a day.
The newest form I've seen are marketed under the name SunPatiens, and are promoted as a cross between a traditional New Guinea impatiens and a wild variety. SunPatiens have the larger flower size of the New Guinea, but the hardiness and vigor of the wild impatiens. They are bred specifically to do well in hotter, sunnier locations. Southern gardeners will be pleased to learn that there is an impatiens variety that will thrive, even in their hotter temperatures and more powerful light. I was amused to read this account, by Jimmy Turner, Director of Research at the Dallas Arboretum. He was understandably dubious that this plant would withstand the severe levels of sunlight in Texas, but was thrilled to be proven wrong! He ended up selecting SunPatiens as his plant of the month!
Photos courtesy of PlantFiles