(Editor's Note: This article was originally published on March 19, 2008. Your comments are welcome, but please be aware that authors of previously published articles may not be able to promptly respond to new questions or comments.)
Cottage gardeners are so called, because they are smitten with the look of the English Cottage Garden, the eternal spring, where temperatures hover in the 60's and rain most often falls in plenty. However we try to emulate that look, for many of us around the world, we must rely on plants that do well in our region yet imitate the look of perfect lush greenery and vistas of tightly packed constant bloom.
My Southern zone 8 garden has been an experiment, after years of gardening in zones 5 & 6 with my grandmother and mother, where a more true sense of cottage garden is more easily achieved. I need plants that can manage through times of too much rain, too little rain, late cold snaps (often the only ones we get) and searing summer heat. Add to this the effects of urban living: the pollution and pavement, and the challenge of a cottage garden in the heart of a large city seems impossible. However, my love of country flowers and the thoughts of them baking in large expenses of sunny fields and brought me to consider adding unexpected additions to my garden.
The charm of Old fashioned Vining Petunias, Petunia multiflora and their sweet scent is another annual I try to keep in the garden. While they often look leggy and wild, these petunias are weather resistant and don't seem to care much about being bone dry as a they naturally stay in flower at the same time they are producing seed. At one time I thought my garden should be too sophisticated for petunias, but then I got smart and realized there is nothing at all sophisticated (and neither do I really want their to be!) about my garden, and back they came!
Orange (or yellow) sulphureus cosmos are another wonderful cottage garden annual accent for those who like to brighten things up. These cosmos tolerate far more harsh treatment, and can stand to be dry for a week or two, even in the hottest weather.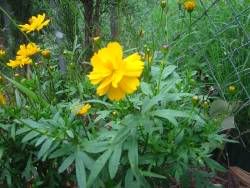 Gomphrena is another annual that lends an appearance like no other. It's globular flowers are "everlastings" – and make excellent papery companions with strawflowers. Gomphrena blooms all through the heat of summer, is drought tolerant and makes the perfect cut flower.
Flower all spring, summer and fall, Society Garlic Tulbaghia violacea is an old-fashioned pass a long Southern heirloom plant is making a comeback in Southern gardens. It's grassy foliage and long lasting purple blooms brighten up even the driest of soils and it looks great with almost anything.
Bearded Irises Iris germanica, are another relatively drought tolerant plant beloved by cottage gardeners for their early spring bloom. Notice I say relatively because drought stressed plants can succumb to disease more readily. Old-fashioned types seem to be fairly bullet proof, especially any with a "grape juice" scent and although some leaves may brown and look ugly in hot, dry summer months, I find the vertical accent of foliage something I can't do without.
Oreganos are some of my favorite cottage garden plants. They bloom in abundance at the first sign of heat, and carpet the garden floor with a lush foliage that hides the "knobby knees" of plants that take the effect of climate to closer to heart. Oreganoes such as 'Hopley's Purple' are grown more for flower and fragrance than for culinary purposes. They will attract beneficial insects, and are lovely cut flowers.
If you need something shrubby, or scented, think about lavender. Spanish Lavender Lavandula stoechas with it's bunny rabbit like ears is tough as nails, as is any Lavandula x intermedia such as the well known Provence lavender. They can withstand long dry spells mixed with hot humid air and heavy soils much better than other lavenders can. Lavenders mixed with rosemaries can be sheered into hedges for more formal English style cottage gardens offering a unique alternative to boxwoods or dwarf yew.
The particularly delicate presence of Columbine or Aquilegia, belies this tough little plant. Short blooming in more southerly climes, columbine will still provide masses of lovely foliage all season provided that it is given a little more shade the farther south it is planted, and native Canadansis is bullet proof.
Salvia greggii or Autumn Sage is another of my favorite cottage garden plants. Actually I love all sorts of Salvias in the garden. Greggii are shrubby salvias with wirey stems and cheerful little flowers that snake through other plants and hover like little lipstick butterflies.
Cup Plant, Silphium perfoliatum is a soaring giant of a plant can seem overwhelming to most gardeners. In 'real life' it has space to fill a prairie, however in my small garden crammed into a 2.5' width, between a fence and the driveway, it works. The verticality of this plant gives it an incredible presence, in our out of bloom, yet when the masses of small yellow daisy-like flowers burst forth, it's like a fountain of fireworks. Best of all, it has a very long season of bloom no matter what the weather brings.
If you need a flowering shrub that can take a lot of punishment, turn to the Rose Of Sharon Hibiscus syriacus. The variety in flower color is quite broad, and they can be limbed up into tree shapes, stooled into shrubbier specimines, are hardy down to zone 5. Grandma's garden would never have been without a Rose of Sharon!
These are just a small sampling of the wide variety of cottage garden plants that can be used to xeriscape a cottage garden in some areas of the country. Each area has plants that will grow well without much (if any) supplemental water in properly amended soils. To start your xeriscape cottage garden, work from the ground up and learn what you need to do to the soil to increase water absorption while maintaining excellent drainage. Consider adding native plants to your palette, and begin to think more regionally about cottage gardening.