Because of the name, you might not realize what the North American Rock Garden Society (NARGS) is for. Rock gardens focus mostly on rocks, don't they? Not entirely, as most of these will feature plants as well to give the scene a more naturalistic look. According to their website, NARGS is an organization "for gardening enthusiasts interested in alpine, saxatile, and low-growing perennials. It encourages the study and cultivation of wildflowers that grow well among rocks, whether such plants originate above tree line or at lower elevations." So what does that mean for you?
Where Did Rock Gardens Come From?
Rock gardens are nothing new. Nature has been shaping the world this way for millions of years; humans less so but enthusiastically. Explorers brought plants and seeds down from the mountains, inspiring gardeners with various degrees of success.
Credit is often directed to Reginald Farrer (1880-1920) an English traveler, mountain explorer and plant collector who spent a great deal of time in Asia collecting plants. He wrote My Rock Garden, published in 1908 and The English Rock Garden, a two-volume set in 1919 which became the bible of rock gardeners at the time.
What Plants Does a Rock Garden Include?
The word "saxatile" means "growing on or living among rocks," while the phrase "low-growing perennials" is pretty self-explanatory. Of course, this also includes low-growing plants from lower elevations and those perennials, like penstemons, that throw up a two to three-foot high flowering stalk from a basal rosette of leaves. While the focus may be on alpine plants, the group doesn't exclude other interesting plants for the sake of a definition.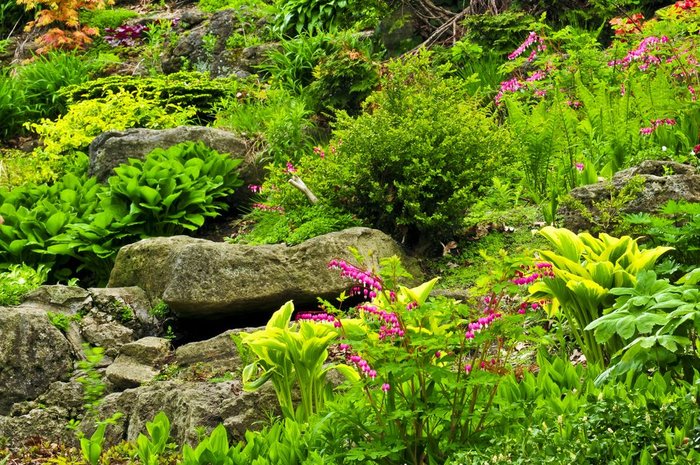 Benefits of Joining NARGS
In 2016, the organization celebrated their 75th year. With 40 chapters in North America, the organization offers field trips and tours, information including the Rock Garden Quarterly published four times year, meetings and garden visits, and a Seed Exchange that alone is worth the price of membership.
The Rock Garden Quarterly is the organization's journal that is filled with great articles about alpine plants around the world, gardening tips and know-how, travel places to view alpine plants, book reviews, and more. Beautiful photography will get your travel juices flowing, as will the trips offer to exotic locations like the Italian Dolomites or Colorado's Rocky Mountains. Even the annual meeting, held in a chapter's backyard provides attendees plenty of opportunities to experience a variety of tours, plant and book sales, lectures, and hikes.
My wife and I joined NARGS last year and we immediately took advantage of the Seed Exchange. Members contribute their time and seed collections from gardens or the wild. Not restricted to North America, worldwide members send in their seeds which are repackaged for distribution to as many members as possible. The organization encourages is "seedistas" to grow, harvest, and distribute seed from their alpine or rock garden plants.
To motivate donors, NARGS offers 10 extra packets of seeds per order for every five packets of seeds sent in, as well as a bump on the priority list to have their seed orders filled. This can be critical especially for those species with limited availability but high demand.
When the Seed Exchange notification arrives each year, there are lists of plants you can choose from. Check out growing conditions for certain plants, and determine if they'll survive in your zone before ordering anything. When our seed order arrives, we try to get them into pots as soon as possible to give the seeds time to cold stratify. Labels help to identify the sprouts. Some plants stay in pots to grow for another season before they get transplanted. Others go out once several sets of leaves develop and we think they'll make it. Some do, some don't, but that's gardening.
Through NARGS, many people have been inspired to include rock gardens in their yards, alongside cottage gardens, vegetable plots, and pollinator pathways filled with a mix of flowers from near and far. I aspire to become one of NARGS' "seedistas" this year, and hope to spread the joys of alpine plants from east of the Cascade Mountains far and wide.