Particularly in vogue this year is the white garden. Included in it is everything from white plants to white décor to white arbors and sheds. This is an easy way to create a chic, harmonious environment that works for both cottage-style and formal gardens.
Plant selection
There are so many white plants, the most difficult part of planning a white garden can be deciding which ones to buy. Cosmos bipinnatus 'Purity', Hydrangea macrophylla 'Annabelle', and dainty plants like Scabiosa 'Snowmaiden' are just a few of them. Sweetly-scented vines such as Jasmine officinale can be included in a white garden along with shrubs having variegated leaves.
Successful planning
Use your imagination, pictures, and past experience to begin visualizing how your garden will look. Think about plants you enjoy most and those you have grown successfully in the past.
Basic design rules
Plan for the way your garden will look in full bloom. Allow plants room to grow and expand.
Layer plant heights and make a statement by planting in drifts. New gardeners tend to fill a garden with individual specimens resulting in a confusing, cluttered appearance when viewed from a distance. Most plants display better when planted three or more in groupings called drifts. Plants are usually arranged in a staggered pattern for a natural look. This planting technique means you have fewer varieties of plants, but they will have a much greater impact than solitary specimens.
In order to achieve maximum impact, be aware of bloom times.
Vining, climbing, and twining plants increase the sense of depth.
Guidelines
Draw a rough sketch of your plan.
Make a list of suitable plants you'd like to grow that thrive in your USDA Hardiness Zone. Then picture them mature in the summer garden.
These suggestions may not work for you. So think about the time you spend outside and when you will most likely be out enjoying your garden.
Every gardener I know loves springtime when plants break dormancy or emerge from the ground to begin their floral show. However, make summer your primary focus and spring a secondary one. Unless you live in a climate that's warm all year, autumn interest should focus on the foliage.
('Delaware Valley White' Azalea; photo mine)
Prepare the garden area
Improve the soil, and define the planting areas. Also prepare for any hardscaping projects you intend to do.
Use contrast and variety
Besides the white plants, foliage colors may be needed for contrast and interest. Use variegated plants for texture.
Many of the desirable plants with silver foliage plants also have flowers, but not always the colors you want. A glaring contrast lacks harmony. If you are considering disharmonious plants, will you incorporate the color, cut off the blooms, or forget about using them altogether?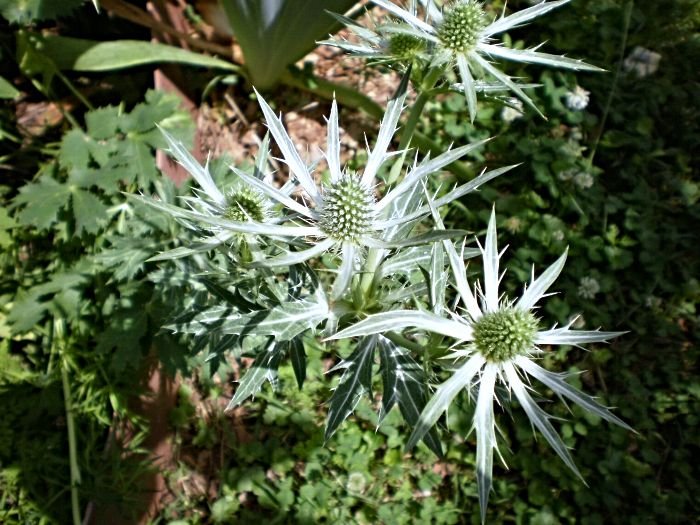 (Eryngium/sea holly; photo mine)
Texture is key
In designing an all-white garden, texture becomes a more important consideration than it is for a garden of mixed colors. Vary the leaf size and the type of foliage. Use velvety silver along with shiny deep green plants having small or variegated leaves and those with larger foliage. Caladiums are one genus of plants that's definitely all about the foliage. And they love shade.
(Caladium 'White Christmas'; photo mine)
Grow a sunny border
If you're planting a border around a patio or fire pit in full sun, you have a large selection of white annuals from which to choose. These often do well in partial sun too: Zinnia, white Cosmos (Cosmos bipinnatus), snapdragons (Antirrhinum), Petunias, Bacopa, and geraniums (Pelargonium spp.) work very well as border plantings.
(Cosmos bipinnatus 'Purity'; photo mine)
Silver leaves bring a cooling feel to a sunny space, which is their preferred location. Artemisias and lambs ears (Stachys byzantina) also have forms that do not produce flowers.
(Stachys byzantina; photo mine)
Shade
A number of white perennials do very well in a
shady location
. For annuals, however, the location should not be too shady. Partial shade from ornamental trees or afternoon shadows is the perfect location. White blooms will glow in the moonlight.
Shrubs
Some shrubs also display cream or white flowers. Hydrangea, Clethra, Buddleia, Variegated Weigela, Hibiscus 'Diana', as well as red-twig dogwood, are all good candidates for the white garden.
(Red Twig Dogwood (Cornus spp; photo mine)
White perennials
These are medium to tall plants:
Arenaria montana

Iberis sempervirens
Actaea racemosa 'Hillside Black Beauty'
Anemone 'Wild Swan'
Hemerocallis 'Lady Elizabeth'
Hosta 'Royal Standard'
Aruncus aethusifolius
Geranium sanguinium 'alba'
Aster divaricatus
Nicotiana alata
Campanula carpatica 'White Clips'
(Narcissus 'Ice Follies; photo mine)
For continuous bloom
To have something blooming all the time, mix annuals, biennials, and perennials. Use shrubs and ornamental trees, as well as any silver foliage plants to provide more light and contrast, if desired.
Variegated leaves and shiny leaves provide additional textures. Remember that reducing the amount of color causes other characteristics, such as light and dark contrasts and texture, to become more prominent.
When you purchase through links on our site, we may earn commissions at no cost to you.